Rolls-Royce Wraith Receives Makeover From Bespoke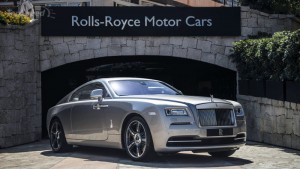 After several special editions, the Rolls-Royce Wraith is receiving another makeover from Bespoke. But this time, it aims to be "one-of-a-kind," and will be a part of Bespoke's theme called "Dusk Until Dawn."
The unique Wraith was unveiled at the Rolls-Royce's exclusive Summer Studio event in Porto Cervo, Italy, thus it was dubbed as the Rolls-Royce Porto Cervo Wraith according to a report.
To represent the "Dusk" in the theme, the Wraith is finished in two-tone silver exterior, with the engine hood and the roof being just a bit darker than the rest of the car's body. But what separates the Wraith cannot be found on its exterior as it is far more impressive once you go inside.
Upon entering, you'll be greeted by the "Porto Cervo Wraith–One of One" insert in the door sill. Everything is finished in shades of blue, purple, slate and black. In detail, you'll see that the inside is made of ostrich leather and fine wood veneer. The four seats are wrapped in purple leather with white stitching and silver "RR" logos on the headrests.
But the main highlight comes from the infotainment system, where Bespoke placed the emblem of Porto Cervo made of emerald stones, mother of pearl and white gold. The upper dashboard is similar with emerald-like top and white lower section.
Anyone who buys the Porto Cervo Wraith will receive a leather headrest designed by London-based artist Mo Coppoletta.
Under the hood, you'll find Wraith's standard engine and transmission—6.6-liter V-12 that can produce 623 turbocharged horsepower and 590 pound-feet of torque, which allows the coupe to go from 0 to 60 mph in just 4.4 seconds. It has a top speed of 186 mph.
There's no information about pricing yet, but let's expect this new Wraith to start at $500,000.
Check out some of its photos in the gallery below: