BMW i5 Sketches Surface Online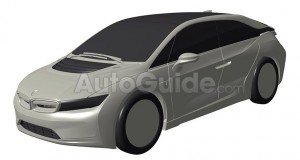 For a long time now, there have been rumors that BMW is working on a new model, which will be called the i5. Now, we might be seeing alleged patent drawings of that said model. These drawings were discovered by Autoguide, and have reportedly been filed by the German automaker with a patent office in Japan in April this year.
Since 2012, many have speculated that the German company would eventually plug the gap between the i3 and the i8 to finally complete its eco-focused i sub-brand. The rumors have covered everything from a supposedly stretched i3 to an SUV to an electronic vehicle that would rival the Tesla Model S luxury sedan.
BMW has remained mum about what it plans for the i5, only telling that its main focus is to make the new model as family-oriented as possible, further fueling rumors that it wasn't going to be a luxury sedan, but an SUV or station wagon-type of vehicle.
If these patent drawings are accurate, it must mean that BMW's design team has been taking cues from the Prius. The patent drawings showed what was originally a questionable looks of the i sub-brand coupled with the form factor of an elongated hatch. Experts are so-so on the looks, with some verging on judging the "i5" as not pretty. In terms of space, the i5 doesn't look practical at all, no thanks to the sloping roof at the rear of the car.
Expectations that the next i car would be an electric vehicle are going down the drain. It's not going to be full-electric, and there's no reason to believe there is going to be an extended-range electric model. It will, however, likely be a plug-in hybrid like the i8.
BMW has earlier said its next standalone electric car won't be arriving until 2021. But before that, the German automaker is set to launch electric versions of regular models such as the X3 and some Minis.