S Appearance Package Adds Oomph To The 2019 Chrysler Pacifica Hybrid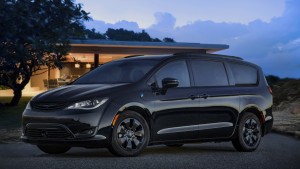 If you want to look cool while picking up your kids from soccer practice or hauling groceries to the trunk of your new minivan, then you should probably check out the 2019 Chrysler Pacifica Hybrid that just got the S Appearance Package treatment.
This July, the automaker will start offering the minivan in the S Appearance package. The success of that same package being offered in the gasoline combustion version of the auto last fall triggered the decision to introduce the upgrades also in the hybrid version of the Chrysler Pacifica.
The updates will mostly be the same as on the gas versions. Buyers of the S package will get the same exterior gloss black accents, including grille surrounds, eyebrow headlamp accents, and window and rear valance moldings. The Chrysler wing badges, placed on the front and rear, are done also in black for the hybrid version, it comes with a special teal insert to highlight the green accents. There's also the "Black Noise" finish on the Pacifica, S, and eHybrid badges, and the black roof rack and 18-inch wheels will come as standard.
The interior of the S Appearance package has black seats with gray accents, as well as the S logo, light gray stitching, and black accents on the wheel. There are also light gray stitching and the Anodized Ice Cave bezels on the instrument panel and the door trim. If we didn't mention what element of the cabin you are waiting for, know that it has been wrapped in black. Everything, except for the contrast stitching and badges, has been blacked out.
The S Appearance Package on the 2019 Pacifica Hybrid models can be had with any exterior paint color, not just black. Orders will start next month for $595. It will arrive in dealerships in the fall.