Seven Is Named As Latest Special Edition BMW Mini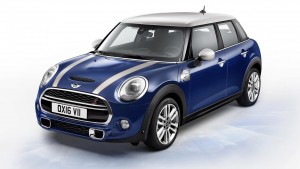 The mk3 BMW Mini is getting another special edition model. Called the Mini Seven, it was named after a Mini 1950s model bearing the same name.
Over the years, Mini has released a number of special editions that have become such a hit for lovers of this instant classic. It managed to leave the third-generation hatchback, launched two years ago, alone but that didn't stop the brand from churning out special editions every now and then.
But this year, Mini will be trying out a new theory. It will be upgrading the ever-so-popular hatchback that has become a dream car for many of the younger generation. Named after the 1959 Austin Seven, the first ever Mini, the new Seven is a fresh update of its mk3 supermini, according to sources.
Outside, you'll get surprised by the paint job, called the Lapisluxury Blue by the Mini brand. Designers described is as "the most intensive" ever applied to one of their cars. But if blue isn't your cup of tea, you can choose from a variety of other colors such as Pepper White,Midnight Black and British Racing Green. You may also opt for the stripes design.
The three-door Seven version will start at £18,545 while the five-door costs £19,145. Both of these are offered in Cooper, Cooper S, Cooper D and Cooper SD trims, so we can expect them to go anywhere from 134 to 189bhp.
The Seven will up the price by £3,000 from the standard Mini. But with the price surge, you'll get a lot of nicer things like the special 17-inch alloy wheels, half-leather trim, Bluetooth, and the sportier gauges that define Mini's Excitement Pack. You can also find special edition badges and kick plates.
Reportedly, this is just the first in the long line of mk3 special models. Let's hope Mini would follow up with some incredible upgrades after the Seven.