Should You Buy the 2018 Toyota C-HR?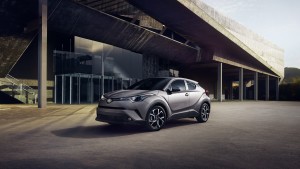 There is a lot of hype surrounding the 2018 Toyota C-HR. The crossover is being marketed for its striking style, decent performance and low payment options.
So is the car worth its advertised $22,500 starting price?
Design
The C-HR is both futuristic and sporty-looking. The hood, headlamps, radiator grille and front bumper resemble the ones carried by the RAV4. However, the C-HR is more compact in appearance due to its chopped off roof and it has a smoother body compared to its SUV counterpart. The rear of the crossover is pretty sleek with its extended roof spoiler and bootlid spoiler. The rear passenger door of the vehicle is unique too.
Despite the smaller design compared to the RAV4, the C-HR can comfortably fit four adult passengers. There is also plenty of headroom for the occupants of the vehicle.
Engine
The C-HR is equipped with a 2.0-liter inline-four engine. The output of the unit is 144 hp and 139 lb-ft of torque. The power of the car goes to the front wheels and it is distributed via a continuously variable transmission that allows it to have enough acceleration during climbs, predictable responses, mild noise and modest level of vibrations.
The crossover has fuel economy rate of 44.8-74.3 mpg. The CO2 emissions of the vehicle are rated at 134-87 g/km.
Tech
Among the notable technologies found in the auto are the standard active-safety systems providing the vehicle's adaptive cruise, lane-keep assist, automatic high beams and pre-collision braking. The said elements are usually provided by other competitors as optional features.
Recommendation
Overall, the Toyota C-HR may be along the average grade when compared to its rivals. Motor1.com recommended that potential buyers of the crossover should shop around for better alternatives first before settling down for it.
Toyota C-HR Pictures
Check out the photos of the Toyota C-HR in the gallery below: