Sightings of the 2018 BMW Z5 Give Details of What's to Come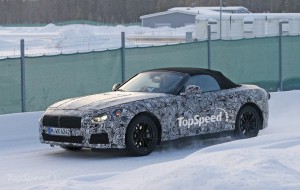 When BMW and Toyota announced their partnership in January 2013, many were speculating the revival of the Toyota Supra and the development of the next-generation BMW Z4.
But these recent spy shots confirmed what has long been a rumor—that instead of a next-generation Z4, the BMW-Toyota partnership will instead replace the Z4 with the Z5.
The Z5 recently made its first public appearance as a camouflaged prototype. The roadster was being tested in cold weather, suggesting that the German automaker has been working on this model for quite some time.
Based on these spy shots, it looks like the new roadster will have a new architecture that'll make it sportier than the Z4.
On the outside, the Z5 has a long hood, a short rear deck, shorter overhangs and a low driving position. Compared to the Z4, the Z5 prototype seems to be slightly longer and wider. And instead of a soft top, the Z5 will have a folding metal roof.
It also has a lowered nose, bigger grille and larger headlamps. The sides don't offer much, except that it might be missing a belt line, though we expect to see more once it is launched.
On the rear end, not much can be seen as well. The trunk lid looks similar to the Z4 with an integrated spoiler while the license plate recess has been moved upper into the right fascia.
There are no details yet for the interior, though we can expect premium feel and excellent fit. Seats should be made with premium leather with option for sportier seats on higher end models.
As for the drivetrain, we should expect a turbocharged four-cylinder with the higher range having a 3.0-liter inline-six. There are rumors that the Z5 would have a hybrid option, though some said it might divert from that route to differentiate itself from what Toyota is planning.
Customers will have an option of either manual transmission or dual-clutch automatic gearbox. An all-wheel drive might be in the works too.
We're expecting the BMW Z5 to be unveiled in either late 2016 or early 2017. The Toyota counterpart, which will be different in looks and will revive the Supra nameplate, should be launched around the same time.
No information on prices yet, but the Z5 could go as high as $55,000 before options.