Sleek and swanky Infiniti Q80 2015!
Auto shows are truly breathtaking. What meets the eye is gorgeous but hey, but what is left to imagination and anticipation is the big catch! Oh, there is nothing like watching those fiery machines gear up before they hit the road. It is like a rush of adrenaline! So must say, Auto Show Season in Paris was quite the spectacle. It was everything you expect from an auto show or may be even more. And what really caught our eyes there was the fab upcoming Infiniti Q80 that is going to take the world of luxury sedans in its stride very soon. And we just can't wait for it to happen soon enough!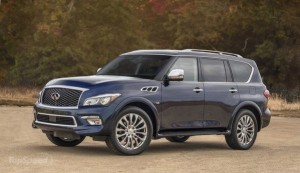 This new beauty looks extremely promising. If looks could kill, consider us gone! The concept was totally out of our dreams. It clearly looks like it falls in the plush sedan segment more than any other! This looks like the company's foray into this new segment, possibly. Now don't even get us started on the design and engineering of the upcoming Infiniti Q80, for this one has exceptionally neat contours, designed to sweep you off your feet! Its design is the most breathtaking one you may have seen in the longest! Who could resist the forceful styling that comes into mark the brand's departure from a conventional look!
So what, some experts exclaim! There are plenty fish in the sea, right now. Considering that every brand including Mercedes, Audi, Lexus and BMW, is bringing on their sedans, isn't this like being part of the premium herd? From distance it might appear that the Upcoming Infiniti Q80 is just one of the many sedans that have inundated the market. However, it is going to definitely set a new trend despite being one of the many luxury sedans in town! In fact the concept machine has been labeled as the trailblazer in its category, one that is versatile, stylish and yet, chic. It is a style statement on wheels and hence, deserves to be called a machine meant for the future! While all of these might appear to be tall claims, the concept really did appear to be a looker, one that is guaranteed to draw a second look, for sure!
Want a peek at the reasons that have led up to the tall claims? Well, here they are. The upcoming Infiniti Q80 flaunts a neat shape. It is like a mirage so even though the fastback lends it a coupe look, the doors are strictly created in such a way that it looks like a sedan. The sturdy body is all aluminum and carbon composite, which promises that the body is going to be on the lighter side. We can already sense improved performance! Also consider the aerodynamic front grille bearing a chrome edge and you will find yourself appreciating this beauty, more and more. Set your eyes on the LED headlights and start praying for the spectacle to be launched already!