Sneak Peek Into The 2017 Audi A5 Convertible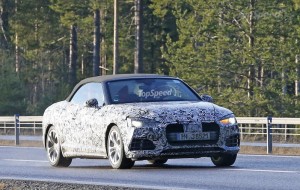 The year 2016 has so far brought in new models from Audi, and the next half of this year will also see the launch of the A5 Convertible, just a few short months after the company unveiled the A5 Coupe.
After seeing the prototypes of the S5 and RS5 coupes being tested near the Nurburgring, it can be assumed that the convertible will also be having higher performance models. But as for now, let's take a look at this standard model, which would be competing with the BMW 4 Series Convertible and the Merdedes-Benz C-Class Convertible.
The A5 would certainly be a tough competitor. Based on the spy shots, we can assume that there would be a new design language, classy interiors and updated drivetrains.
The convertible was covered in camo, but there are plenty of hints as to what it would look like once the camo comes off. It looks like the convertible will have a sharper body line, which confirms the A5 will be heavily based on the A4.
In short, the A5 should be a two-door convertible version of the A4.
The A5 would have the same size and shape as its predecessor, albeit it has reshaped body lines and slightly more angular features. Expect to see new headlamps that feature L-shaped LED stripes and redesigned twin LED lamps. At the back, there would be thinner taillights, shorter trunk lid, and a new bumper.
The interior will be completely redesigned. There's a new "dashboard" with a continuous air-vent strip and the center console will have a sportier look. There would also be a new steering wheel with revised buttons, a larger display for infotainment system, and a new airconditioning unit.
The seats would be bound with softer materials that match the dashboard and door panels.
The range of diesel and gasoline options were updated—from a 1.4-liter TFSI rated engine to a 2.0-liter four-banger to a 3.0-liter V6.
The A5 Convertible should be a tad bit more expensive than the A4, which starts at $47,900 for the base trim and $50,200 for the premium version.