Some challenges are worth waiting for, like the Dodge Challenger 2015
When we have to praise something we use adjectives for them. We find all great words for them, superb, amazing and so on and so forth. However, things become slightly different in the motor world. When a machine sets out and it takes our breath away, some times there is so much that we want to say that it makes us speechless. It truly becomes a challenge to praise a vehicle, sometimes, which brings us to the upcoming Dodge Challenger 2015 that lives up to its name, in every sense of the word. There are some crazy adjectives that have been used for it and they are only making the wait a tad more difficult.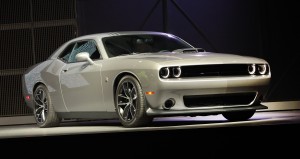 Some are crying out aloud about its muscles, some are pleasantly shocked about the attitude it carries, others are just hit by how hot the upcoming Dodge Challenger 2015 is and how its manufacturers have done such a killer job! When we say killer job we truly mean it. So this one is a fierce runner that goes from 0 to 60 mph in roughly about 3 seconds. It is created to click the quarter mile in about 10.8 seconds max and then shoots to almost 200 mph like it is no big deal. Could you believe this one? This sure as hell one runner and imagine we haven't even shared with you the other details like its efficiency and the engine specifications!
Could some vehicle be so gorgeous as this? Well, sure looks like it is every bit possible. So, are you game to know more to totally lose your heart to this one?
How much do you guess the upcoming Dodge Challenger 2015 eats up every minute? Just a wild guess will do, too! Guess and let us surprise you. This stunner feeds on approximately 1.5 gallons of gasoline every 60 seconds. This figure has shocked many people to the core and it is not even surprising that it surprises them! Aren't you surprised too? Say no and we will tell you the engine details. Behind the awesome looks and fabulous attitude is the gorgeous 6.2 liter HEMI V8 that creates close to 707 horsepower and an unbelievable 650 lb ft torque that bowls many of us over! That is a lot of power for a machine to produce and we can only imagine how tough it will be to handle it! Do you think you are fit for this one?
We will get one layer closer to the upcoming Dodge Challenger 2015  So, in addition to the great looks and the high powered, incredible engine, it has twin exhausts that also add a crazy, earth shattering roar which is deep and loud and merciless enough to not relent, under any circumstances. And we don't see any reason to complain. Be excited for the impressive six-speed manual transmission. Or you can go with the ultimate eight-speed TorqueFlite that is automatic. There are so many reasons you must not even question the ferocious Dodge Challenger!