Spanish Carmaker SEAT Removes Veil On Cupra e-Racer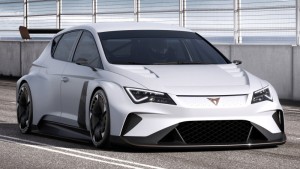 Volkswagen-owned SEAT announced that it has come up with the Cupra e-Racer, a fully electric racing touring car that will be unveiled at the Geneva Auto Show. The Spanish automaker calls it the world's "first 100 percent electric racing touring car," which, based on its specs, is truly one of a kind.
Everywhere you look, fully electric racing cars are hitting the track, promising to revolutionize the race car industry. There were previous reports that even at the 2020 World Rallycross Championships, electric racers would be part of the program. In fact, they would headline the show. An electric touring car series was also reported to be supporting the Formula E.
Aside from that, Jaguar also announced that an I-Pace eTrophy racing series will be featured alongside Formula E during the 2018-19 season. There is certainly quite a turn and change in the industry as manufacturers scramble among themselves to come up with an enticing fully electric (sometimes, even automated) racing touring car for the tracks.
The Cupra e-Racer is based on the Cupra Leon TCR touring car, and is expected to headline a new E TCR category. The Cupra e-Racer can produce 400 horsepower that will peak at 670 horsepower.
The Cupra brand is new, so that e-Racer will probably act as the best vehicle the Spanish automaker can come up with now. It is expected that the brand will take over SEAT's entire motorsport and racing division, given that it has done a fantastic job in the last touring car it produced and developed.
SEAT's motorsport and racing division is originally under the SEAT Sport brand. If you are still unsure how SEAT wants to market its Cupra brand, or what it plans for it, you better take a look at what it tweeted earlier: "It didn't come here to play games. It's coming strong. And coming to stay. Discover CUPRA's launch at https://t.co/RW2yM88LCi pic.twitter.com/F1vfqrByqi."