Speedkore Dodge Charger With 1,525 HP Introduced at SEMA Show
The SEMA Show starts in a full-throttle by introducing the Speedkore Dodge Charger. The car based on the 2019 Dodge Charger Pursuit platform comes in a tuned state with a mind-blowing 1,525 hp plus an aggressive-looking widebody kit.
The car is touted by Speedkore as the "world's first all-wheel-drive, twin-turbocharged, carbon-fiber widebody" Charger. The vehicle is a product of the company's cooperation with MagnaFlow and HP Tuners.
Performance
Popping the hood of the Speedkore Dodge Charger reveals a modified 6.2-liter twin-turbo V8 engine. The power unit is the same as the one used by the Speedkore Demon shown at the 2018 SEMA Show. However, the new project has an additional output of more than 300 hp during the dyno tests compared to the former.
Staying true to its promise, the tuned Charger delivers 1,525 hp at the crank with a "conservative 26 pounds of boost." All that power goes to all four wheels and distributed via a Hellraiser Performance-built transmission. The gearbox is partnered with Traction Products' custom billet transfer case, an FTI torque converter, and Driveshaft Shop's carbon-fiber driveshaft.
Among the key upgrades in the engine bay of the Charger include two Precision 6466 ball-bearing billet turbochargers replacing the fresh-from-the-factory unit of the auto. It also has a custom-made triple-pump fuel system with 1,700 cc injectors.
We are yet to find out how fast the car can reach 62 mph from zero. The top speed of the auto is to be revealed in the future too. We would surely love to see it go head-to-head against the tuner's Demon though, so we can find out which is the quicker one.
Design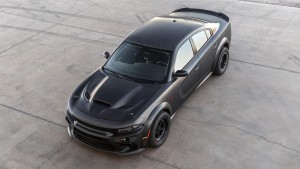 Speedkore makes the Charger visually stand out with a widebody kit consisting of carbon-fiber materials. The changes in the aesthetics of the car can be found in its hood, bumpers, fender flares, rocker set, rear spoiler, and rear diffuser.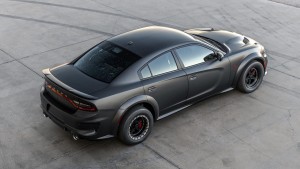 Availability
Unfortunately, the car on the exhibit in Las Vegas is only a one-off project. It was commissioned by an unnamed Speedkore loyal customer who intended to give it as a gift for his brother's 65th birthday.