Spy Shots Of 2017 Opel Insignia Are Out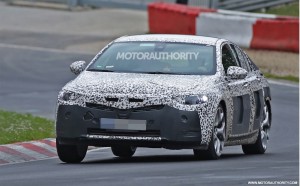 Spy shots of the 2017 Opel Insignia were recently seen out and about by Motor Authority as Opel engineers tested them out on the road. The new Insignia is slated to compete with the mid-size sedan segment, but by the looks of it, they are considerably growing and may rival some of the other larger models.
The 2017 Opel Insignia slightly look like the Audi A7, thanks to the design team's decision to use a sloping, coupe-like profile.
The Insignia will be sold in Europe, the United States and even in China, where it will be badged as a Buick Regal. This is crucial for General Motors, which is looking to highly infiltrate these markets.
Although the Insignia may be bigger in size, it is expected to be lighter and more dynamic than the current model. This is all possible because of the E2XX platform.
The E2XX platform had its debut at the 2016 Chevrolet Malibu, and boasts of its high strength steel in its construction. This allows any vehicle using the platform to have that heavy duty feel without the additional weight.
When it was launched, the platform had a weight saving of close to 300 pounds. The same is expected from the Insignia.
Other expectations from the Insignia's specs include a front-wheel drive as standard (although an all-wheel drive should not be written off just yet) and either a 3-, 4-, or 6-cylinder configurations in diesel and gasoline options. It is also possible Opel may come out with a hybrid engine.
Aesthetically, the Opel Insignia will be influenced by the 2013 Monza concept and the more recent GT concept. As for technology, we expect to find Matrix LED headlights, semi-autonomous systems and IntelliLink infotainment with smartphone connectivity.
The 2017 Insignia is expected to be launched later this year or early next year. It may, however, have an early appearance at the 2016 Paris Auto Show in September, so stay tuned for that.