Spy Shots Of 2017 Opel Insignia Released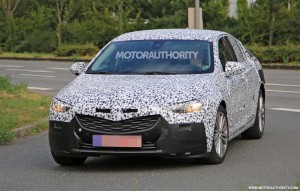 The new 2017 Opel Insignia has been spotted about to be tested by car engineers. It was initially designed to compete in the mid-level sedan race, but the new model can also rival some larger models because of its relatively larger size. It looks like Open designed the sedan with a coupe-like profile too like the Audi A7.
Despite its bigger size as shown in the spy shots, the new Insignia should be lighter and more dynamic than the current model, largely thanks to the E2XX platform, which made its debut in the 2016 Chevrolet Malibu. The platform was made to endure high-strength steel in its construction, allowing the Malibu to have about 300 pounds of savings in weight. The same can be expected for the new Insignia.
As for the drivetrains, front-wheel drive will be the standard, but there will also be an option for an all-wheel drive. There are speculations that the power would come from a 3-, 4- and 6-cylinder configurations, both in diesel and gasoline flavors.
A hybrid option and a sporty OPC are rumored. The latter is expected to be paired with the Regal GS.
Remember Opel's Monza concept from 2013 and the more recent GT concept? The new Insignia will be likely influenced by these. We should see features such as Matrix LED headlights, semi-autonomous systems and an infotainment system with smartphone connectivity.
Plans are also being made for an Insignia Sports Tourer Wagon, which might be brought to the US as a new Buick wagon.
This new model is crucial for General Motors since the Insignia is sold both in Europe, US and China where it is called the Buick Regal.
The new Insignia is expected to make its debut late this year or early next year. There might be an appearance at the 2016 Paris Auto Show in September, though no confirmation has been made yet.