Spy Shots Of 2018 Alfa Romeo Stelvio Emerge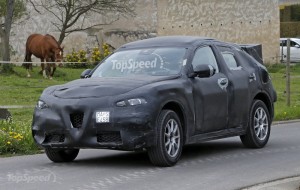 The all-new 2018 Alfa Romeo Stelvio was photographed while on a road test around the Nürburgring.
The new SUV came at just the right time when Alfa Romeo promised to launch eight fresh models by 2018. The Alfa Romeo Stelvio is expected to compete against the likes of 2017 Audi Q5, 2017 BMW X3, and 2015 Lexus NX.
The models will apparently offer a range of drivetrains from fuel-efficient gasoline and diesel versions to high-performance haulers.
Technically, Alfa Romeo has yet to launch a production SUV. But every time it does, the Kamal Concept presented at the 2003 Geneva Motor Show is being tapped.
But Alfa has a new design concept for the Stelvio, seen on both the 4C and the Giulia. Up front, we can see Alfa Romeo's design language on the nose and the lower area of the fascia. Then, there is more padding on the sides while the roof slopes down a little to the rear.
Inside, there's an expectation that the SUV will borrow the design features of the Giulia. The dashboard includes a center console, the instruments cluster, the center stack and the infotainment display.
It would also probably come with premium features such as leather upholstery, soft-touch materials on the dashboard and door panels, contrast stitching, and aluminum inserts. The high-end variant will most likely include carbon fiber trim.
Under the hood, there will be a range of gasoline and diesel engines. For the gasoline, the SUV will have a 2.0-liter, supercharged, four-cylinder that delivers 197 horsepower and 243 pound-feet of torque on an eight-speed, rear-wheel-drive transmission.
As for the diesel variant, you will get a 2.2-liter four-cylinder with two different configurations. One offers 177 horsepower and 331 pound-feet of torque while the other offers 148 horsepower and 280 pound-feet of torque.
There's going to be a high end variant with a 2.9-liter, biturbo, V-6 engine.
Prices are not yet available for this SUV, but the entry level should start at $42,000 while the high end would cost $50,000.