Spy Shots Of 2018 BMW Z5 Released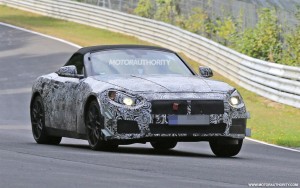 Back in 2011, Toyota and BMW planned to jointly develop a mid-size sports car platform to replace their Z4 and Supra models, respectively. It looks like the day has finally come for us to see the completion of such platform.
New spy shots of a prototype for BMW have been released. We're expecting these shots to be soon called as the Z5. Instead of being a next-generation Z4, adopting a new name links this car to BMW's 507, which is a legend in the industry. And it being a notch higher than the Z4 means the German automaker can charge more for it.
The higher positioning can be backed up by the larger size of the prototype as compared to the Z4. And although the shots have almost similar to identical proportions to the Z4, what's most noticeable is that this is going to be a soft-top convertible rather than a retractable hard-top. Based on one of the shots, we can also gleam that there is going to be a new grille design.
Another thing that should justify the higher positioning of what seems to be the new Z5 is the improved performance. This new car will be competing against the likes of the Jaguar F-Type and Porsche 911. The base model will most likely have an inline-4 though the inline-6 as an option is a popular suggestion too. Turbocharging might be standard for all variants of the Z5.
You may be wondering if the hybrid tech will be used on the Z5. This is highly unlikely because BMW certainly wants to differentiate their Z5 from Toyota's Supra successor, which might go down the route of gasoline-electric.
This new BMW sports car, whether or not it will be called the Z5, will debut either in late 2017 or early 2018. Though there have been no word yet on pricing details, this will likely go as high as $50,000 for a starting price.