Spy Shots Of 2018 Dodge Challenger ADR Leaked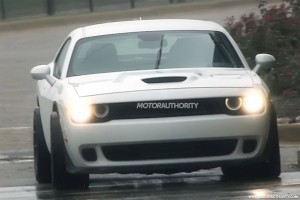 Dodge will create a wide-body SRT Hellcat based on these spy shots of a 2018 Dodge Challenger ADR. Positioned above the SRT Hellcat, this new range-topping Challenger has recently been spotted testing on Michigan roads ahead of a likely 2017 market launch, making it an entry for the 2018 model year.
The prototypes sighted are wearing standard body panels but the protruding rubber can still be clearly seen. There is simply no mistaking that this new Challenger is going to have a wide and sexy body.
The photos weren't properly zoomed in because the poor weather hinders so, but the tires are definitely wider than the tiny 275/40-size set currently on the SRT Hellcat.
There were previous rumors that the 315s would be fitted on this model, but that's a conservative estimate judging by these spy shots. In the industry, the car with the biggest rubber is the Dodge Viper, which is fitted with the massive 355/30-size tires at the rear.
Dodge hinted of a wide-body Challenger back when it first introduced the Challenger GT AWD concept at the 2015 SEMA show. The concept consists of an all-wheel drive system from the Dodge Charger though there's only a 5.7-liter V-8 similar to the Fiat Chrysler.
Speculations have been pointing out that there will be two wide-body options for the Challenger, though it is also possible that more will come. The first two options might be an all-wheel drive car with an entry-level 3.6-liter V-6 and a high-performance car with the Hellcat supercharged 6.2-liter V-8 and rear-wheel drive.
The high-performance car is the new model, expected to be called the Challenger ADR (American Drag Racer). It is a rear-wheel drive with extra rubber to help put the Hellcat's hellish power. The current model can produce 707 horsepower, though that can easily be bumped up.
This model is expected to be the final hurrah for the current Challenger before a redesigned model is introduced.