Spy Shots Of 2019 Audi S7 Emerge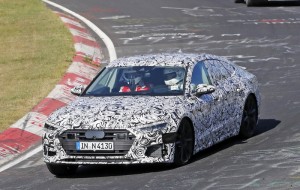 The second generation Audi S7 was spotted being tested on the road, and it reminds us of the large, four-door hatchback or "Sportback" body found in the Mercedes CLS Coupe, the BMW 6 Series Gran Coupe and the Audi A7 Sportback in 2010.
This is the first time the second-generation Audi S7 was spotted in the wild, so we are sure there will be plenty of surprises in future spy shots. The prototype has a strong resemblance to the Prologue Avant Concept since it has the same stretched-out hexagonal grille and small but dominating corner air intakes.
For now, the fascia is still incomplete, so we're yet to see if it will sport the proper grille or intake inserts. Up front, you'll also notice the thin headlights, and this is a big thing because the lower, outer corner of the headlamps on the current S7 dips down. But on this model, the bottom edge of the light is flat while the top edge follows the hood. It is a much cleaner look, and would look great once the camouflage comes off the prototype.
On the sides, the Audi S7 has the same distinct body line on the bottom of the door between the two wheel arches. The mirrors are a little shorter and the rear quarter panels are extended outward, which along with the low body height, gives the vehicle rather a "sitting pretty" look. The roof is very much a true "Sportback" while the sharp body line on the rear quarters fade as it gets closer to the headlights.
There's a new pair of taillights at the rear end. These are thinner than the current model, and have a more rounded contour on the top and the outside edges. As for the rear fascia, it's not too different from the current model.
There's no report yet on the powertrain of the new S7, though it may have the same 4.0-liter V-8, except that a little tweak can power it up to 470 horsepower and 420 pound-feet of torque.
Pricing for the S7 might be $80,500 for the entry model and $85,000 for the prestige.