Spy Shots Of 2020 BMW 8-Series are Out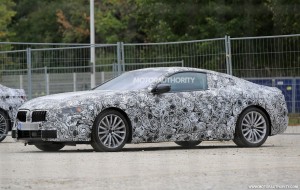 We now have the first spy shots of the coupe BMW is working on in the hopes of reviving their 8-series name. The German automaker hinted of their plans last March when senior executives said BMW are planning to add more high-end models to their lineup.
One of these models will be simply called as the 8-series. The other one will be an i8 Spyder.
Based on the spy shots, the BMW 8-series will have a low roof and wide, muscular shoulders that we can vividly remember seeing in Aston Martin's DB9, which also features four seats arranged in a 2+2 format—the same one we're bound to see in BMW's new 8-series.
The German automaker will reportedly be working alongside the Italian design house Pininfarina for the 8-series. Pininfarina is the same partner that developed the Gran Lusso Coupe, a modern successor to the 8-series in 2013. That partnership between BMW and Pininfarina is thought to hint at the finer design elements of the new 8-series.
What we do know for now is that the platform for the new 8-series will be BMW's carbon-infused CLAR design, which debuted in the 2016 7-series. This ensures the 8-series will have a low curb weight and compatibility with electrified powertrains. Thanks to the latest in next-generation gesture control, it should also come packed with an amazing infotainment technology that passengers will enjoy.
The latest fillings from BMW might be a glimpse into what the 8-series can have— V-8, V-12, M Performance and dedicated M options. The fillings included "850", "860", "M850" and "M8." The M8, according to speculations, might have a high-performance hybrid system known as the Power eDrive plug-in hybrid.
As for the system, the new 8-series will most probably combine a turbocharged inline-4 with a pair of electric motors for a combined output of 670 horsepower. The V12 models should have a 600-horsepower twin-turbocharged 6.0-liter engine from the latest M760i xDrive.