Spy Shots of the 2017 Honda CRV Surface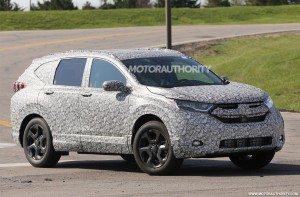 The Honda CRV was, and remains to be, one of Honda's most popular vehicles ever. Now, it looks like we have seen a prototype of this SUV for the next model year.
This will be the fifth generation of the popular compact crossover SUV, and it's looking to be the most radical of the lot. Based on the spy photos, the new CRV will be larger than its predecessor (remember that the first generation CRV was a very compact SUV in form), but this makes sense for Honda since they already have the HRV for the smaller SUV segment.
Because of its size, we're expecting that the new CRV can handle third-row seats, which will turn it into a direct competitor of the three-row Volkswagen Tiguan.
In truth, the new CRV is looking like it's going to be based on the platform introduced in the 10th-generation Civic, though this one's a little stretched. This platform is lighter and stiffer than anything we have seen from Honda. It should benefit the CRV's dynamic qualities, too.
Aside from the Civic platform, the CRV will also be sharing other elements such as the turbocharged 1.5-liter 4-cylinder and CVT. When fitted on the Civic, this engine can deliver 174 horsepower and 163 pound-feet of torque. A higher output can be expected from the CRV.
Some may also be happy to know that a naturally-aspirated engine will be an option for the 2017 Honda CRV. It will also have a front-wheel drive system as standard while the all-wheel drive will remain as an option.
The 2017 Honda CRV is being geared for a debut late this year or early next year. Prices will reportedly begin very close to the $24,645 price tag the current model has. Of course, options for next year's model will soon be released, so we'll know soon enough the base and top-of-the-line price range..
Check out the spy shots in the gallery below: