Spy Shots Of The 2017 Opel Ampera-E Released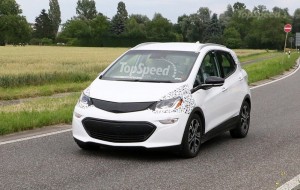 The Opel Ampera might be a flop when it was first released, failing to live up to the expectations, but for some reason, Opel thinks this new Ampera-E is going to be different. But the truth is, the Ampera-E is practically the same as the Chevy Bolt EV, which was announced back in January. Don't expect anything new here aside from what we already saw in the Bolt EV.
On the exterior front, let's not go into too much detail. The Ampera-E basically looks like the Bolt EV, except that with the camo on the headlight units, taillight units and the upper rear quarter, it makes us think there are minor differences there.
The Bolt EV's headlights mesh seamlessly into the strip that runs along the car's waistline. But since the Opel has this covered up, we're thinking something new might come out when the camo is off. The Ampera-E logo would, of course, be positioned on the fender just beyond the taillight.
There are no spy shots of the car's interior, but we're betting it would look like the Bolt EV too with its three-tier console with an armrest at the rear, and the shifter in the middle. It also has a large horizontally-oriented infotainment screen in the center stack that goes well with the various HVAC controls.
Other things that would look similar to the Bolt EV are the digital instrument cluster, the steering wheel, and the center insert (which will have the Opel or Vauxhall insignia). The seats are two-toned—the front and the outside edges are in a lighter color, as well as the dashboard and the insert around the door handles.
You want space? The back seat can be laid down to provide more cargo space.
The 2017 Opel Ampera-E will be priced at $40,000 with taxes, options and destination fees.
Check out the spy shots of the car from Top Speed: