Spy Shots Of The 2018 Audi RS5 Surface Online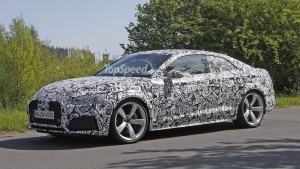 When the A5 and the S5 made their debuts, it became pretty clear how the Audi RS5 will look like. Since there wasn't an RS5 for the 2016 model year, we're a bit excited about the styling of the 2018 version.
The next-generation Audi RS5 was caught being tested in the wild, and while it hasn't shed its camouflage, we can clearly see the correct front fascia and fenders. The vehicle features wider fenders and an RS5-correct front fascia. The fascia looks similar to the model that was caught testing in May, but the new spy shots revealed that the radiator grille is not properly defined in Audi fashion while the corner air intakes were refined to match.
Both the air intakes and the grille don't have the proper mesh quite yet, though the Audi emblem is now prominently displayed a little below the hood. Now that the correct fascia and fenders are in place, we can safely assume that the RS5 is almost production ready. We may not see in at the Paris Auto Show later this month, but we bet it will debut at the Geneva Auto Show next March.
The rendering of the RS5 coupe showed the same hood as the A5 with the muscular character line and the same headlights. The grille has the same shape, except for the "quattro" lettering that go along with the RS5 emblem on the left side.
The side profile is expected to remain the same, except for a set of larger, light-alloy wheels wrapped in performance-spec tires. Compared to the previous RS5 and to the A5, the body might seat an inch lower to the ground. At the back, it will have the same taillights.
As for the powertrain, the RS5 might be packing a 3.0-liter, turbocharged V-6 that produces somewhere between 450 and 470 horsepower. And since it will be lighter, top speed will likely improve.
The next RS5 is expected to be priced at around $75,000.