Spy Shots of the 2018 Buick Regal Surface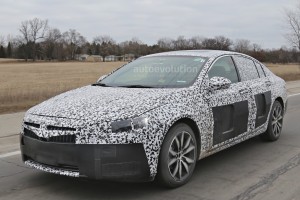 We finally got some spy shots of the prototype for the Buick's next generation Regal. It was spotted while being tested in the United States.
Based on the spy shots provided by Autoevolution, the 2018 Buick Regal will most probably be a bigger car than the previous edition.
The new Buick Regal is set to be in showrooms next year as a 2018 model. Like the current model, it will come with Opel's Insignia. The same version will also be available in Australia and New Zealand as the next Holden Commodore.
Overall, the Buick Regal is expected to look like a downsized version of the 2017 Buick LaCrosse. Buick's signature can clearly be seen on the waterfall grille, as well as the same winged badge on the current LaCrosse.
But what's even more interesting is that the new Regal has a more conventional notchback body while the Opel features a fastback roof. Currently, the latest Regal and Insignia have an identical body.
Highlighting the Buick Royal's performance is the General Motors Company's E2XX platform, which was designed specifically for a front-wheel drive, mid-size models.
It can be recalled that the platform was launched in 2016 for the Chevrolet Malibu. A longer version, which was featured in the latest LaCrosse, promises even better performance. Key features of the platform included lightweight construction and better riding suspension.
The Buick Regal's base option will most probably have a four-cylinder with turbocharging. The current model's 2.4-liter four-cylinder base engine is still the expected one to be used in this new model.
The transmission will be an eight-speed automatic. The standard version will be a front-wheel drive while there will be an option of an all-wheel drive.
The new Insignia will debut at the 2016 Paris Auto Show in October while the new Regal should come shortly after at one of the major North American auto shows. But before the Regal arrives, we'll be seeing a new Verano.