Spy Shots Of The 2018 Ford Fiesta ST Emerge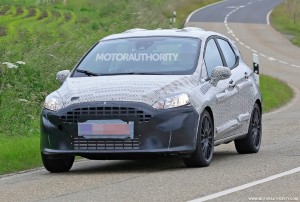 Ford is currently working on their next-generation Ford Fiesta hatchback. Lucky are we today that we found some spy shots of the prototype for the new ST model.
It was amazing how the engineers tried to make the 2018 prototype look like the regular Fiesta, but some clues in terms of its exterior have given way for us to take a good guess of how sporty this ST model is going to be.
The most obvious new features are the uprated wheels, tires and brakes. The Ford Fiesta ST should have multi-spokes because its maker has been trying to hide larger brakes, although the front rotors and calipers don't actually look bigger than normal.
There are also dual-exhaust tips at the rear and a seemingly large intercooler at the front. A new spoiler is also spotted and it looks bigger than the Fiesta previewed a few weeks ago.
Based on the photos, the engineers are using the current Ford Fiesta ST as a benchmark.
In terms of powertrain, we expect the new ST to retain front-wheel drive, manual transmissions and the turbocharged 4-cylinder engine. But since this is the next-generation ST and it promised to be sportier, we should see some extra horsepower.
To recall, Ford has just launched a special Fiesta ST200 to mark the impending end of the current Fiesta range. And though that wasn't intended for the US market, its turbocharged 1.6-liter 4-cylinder should fit well with the offering in this new ST.
The same engine will produce a fairly average 212 horsepower. With this, we're hoping there's also a hotter Fiesta RS somewhere in the future.
This new Fiesta, including the ST model, will debut next year as a 2018 model. Reports said it can make its debut at the Frankfurt Auto Show.
Ford is reportedly also planning to launch a next-generation Focus, which will come in as a later model compared to the 2018 Fiesta ST.