Spy Shots of the 2018 Porsche Cayenne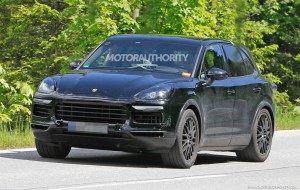 It looks like the current Porsche Cayenne is nearing the end of its production life since a new one has been spotted out and about being tested in prototype form. Although the new SUV was covered in camouflage, we can still make out the general shape of this third-generation Porsche Cayenne.
By the looks of it in the spy shots, this model has a sleeker look with a longer and flatter roof. The styling was based on Porsche's Panamera Sport Turismo concept from 2012, as well as the Macan SUV. The new Cayenne will also adopt Macan's clamshell hood, wraparound tail-lights, and the Panamera Sport Turismo concept's C-shaped fender vent and front air intakes.
Inside, it should have the same styling as the current Cayenne, though with less physical buttons because of an improved touchscreen interface. We should also expect this new model to have improved infotainment and connectivity options, as well as electronic driver aids with semi-autonomous features.
In terms of dynamics, fuel efficiency and performance, the new model is based on Volkswagen Group's MLB Evo platform, which made its debut with the 2017 Audi Q7 and appeared in the 2017 Bentley Bentayga. We expect it to see in the next VW Touareg and the Lamborghini Urus SUV.
The platform will make the new Cayenne lighter in weight but with improved rigidity, thanks to its combination of high-strength steel, aluminum and carbon fiber. The 2018 Cayenne will weigh 220 pounds less than the current model, which is at 4,500 pounds.
As for powertrains, the new Cayenne will have the same engine as the current model, meaning a naturally-aspirated V-6 for the base model, a turbocharged V-6 for the mid-range Cayenne S, a plug-in hybrid for the Cayenne S E-Hybrid, and a twin-turbocharged V-8 for the Cayenne Turbo.
It is still not clear if the new Cayenne will offer a diesel option in the United States, especially after the VW Group's diesel emissions scandal that affected the Cayenne Diesel.