Spy Shots of the 2019 Chevrolet Corvette C8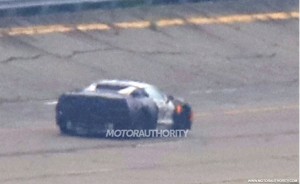 A prototype of what looks to be a mid-engine Chevrolet Corvette was sighted near a General Motors Company facility in the United States.
These latest shots came after similar ones published last year that showed a "mysterious" test car whose body bore inspirations from several other vehicles such as the Holden Commodore Ute for the front and rear sections and the C7 Corvette for the mid-section.
Wasn't it just last month that reports came about the next-generation Corvette, the C8? Back then, there were indications that the C8 will be launched in mid-engine form at the 2018 Detroit Auto Show.
However, if the C8 will arrive in 2018, that means it'll be a 2019 model, giving the C7 a relatively short lifespan since it arrived as a 2014 model. The reason for this is because GM started working on a mid-engine design for the C7, though those plans get scrapped before the company announced bankruptcy in 2009.
Based on these photos, the C8 will be sized similar to the C7, except that the former has a lower and wider stance. There are chunky buttresses on the sides of the engine bay, and if reports are right, there will be a sheet of glass in the center to show the car's engine. Just how cool is that?
Only a small group of people have seen the C8 prototype, meaning designers and engineers (the same thing happened when Ford came out with the GT supercar), as it has been protected even from employees.
There's not going to be a new design. Rather, the platform will be based on the C7's aluminum spaceframe structure. This shows that although the C8 is an exotic car by itself, it cannot exactly justify a pricey tag.
The C7's starting price is close to $60,000 while the C8 would probably have a base price of $80,000, add-ons not included. Production of the C8 will be at the Bowling Green, Kentucky, which GM has upgraded for the new car. The company apparently spent $700 million for the facility.