Subaru Confirmed Levorg STI Version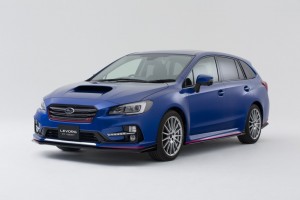 Subaru Tecnica International, Subaru's performance arm, just confirmed the company's plan to launch a high performance version of its Levorg wagon. According to a source, it will be based on the Levorg STI concept introduced during the 2016 Tokyo Auto Salon.
The concept is due to start production this summer, but it won't be coming to the United States market since the Levorg was never really offered there.
Unlike the previous BRZ tS, the Subaru Levorg STI won't be another lame duck attempt. Instead, it will more likely offer dedicated performance like the WRX STI, which was celebrated when it was launched.
Subaru is basically claiming this would be a more mature performance car. It is launching the vehicle to celebrate the 50th anniversary of the brand's love for horizontally-opposed "boxer" engines. The release seems to be an appeal also for consumers who lamented the company's decision to end the production of the hatchback body style of the current-generation WRX STI.
No other details have been released by Subaru, although reports are pointing out to a turbocharged 2.0-liter 4-cylinder engine, which we saw on the original Levorg STI concept. What we saw on the concept is that it's also fitted with 18-inch wheels, especially-tuned dampers and an elegant interior with two-tone leather trim.
The concept also featured a CVT.
All of these features were included in the wagon as an attempt by Subaru's design team to come up with a performance car for the older and more conservative types who were unimpressed by the WRX STI.
There's no actual detail yet on when Subaru is planning to introduce the Levorg STI to the market, but the company has been hinting since 2011, when it launched the Advanced Tourer concept, of such a vehicle. Let us expect the Levorg STI wagon anytime soon.