Subaru WRX STI Will Get Minor Power Bump For 2019 Model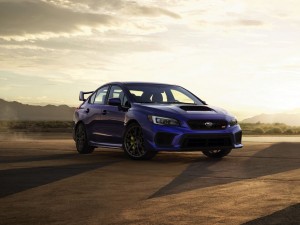 It is not much, but reports said that the Subaru WRX STI will get five more horsepower for its 2019 model. Subaru's WRX and WRX STI offer a kind of free-driving experience that not many sedans currently in the market can boast of. Both models have aged in many aspects, but they are still as popular as ever, especially to their loyal fanbase.
According to a document submitted to the National Highway Traffic Safety Administration by the North American, the 2.5-liter turbocharged boxer-four engine of the WRX STI will now produce 310 horsepower. That's five more horses compared to the previous model. The 2019 Subaru WRX, on the other hand, will still get 268 horsepower.
The 310-horsepower output of the WRX STI for the 2019 model is familiar because it's the same output as the limited edition STI Type RA. This is the quicker and "more nimble version" of the STI that was unveiled last year. This special edition model was limited to just 500 units in the United States.
Aside from 310 horsepower and 290 pound-feet of torque, the STI Type RA will also have a suite of modern and exclusive components. The special edition model had a carbon fiber roof, Bilstein shocks, a high-flow exhaust, larger intakes, a retuned engine control unit, and a modified multi-mode vehicle dynamics control system.
The STI Type RA was seemingly produced for the STI fanboys, and there are plenty of them. These are the same people who will be excited to know that the 2019 WRX STI will get the same output as the STI Type RA.
The WRX STI may not have plenty of components fans can go gaga over, but they can tap through a large number of aftermarket channels to customize and give their WRX STI more personality.