Tag Archives:
2012 la auto show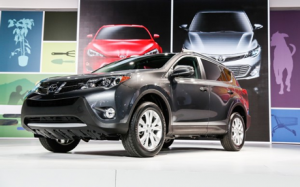 Have you heard the news? Toyota recently debuted its amazing, all-new 2013 Toyota RAV4 at the 2012 Los Angeles Auto Show, and auto experts and fans everywhere are taking notice! The redesign is the first for the hot-selling small SUV in the past seven years, and here are some of its standout features:
2013 Toyota Rav4 Specs to Remember:
Sufficient Space: The new RAV4 is about the same size as its predecessor, though it has been granted additional cargo space. It has the ability to sit five adults.
Plenty of Power: Though the optional V-6 engine is no longer available, the standard 2.5-liter four-cylinder engine is still relatively powerful, as it boast 176-hp and has the ability to tow 1,500 lbs.
3 Driving Mode Selections: More remarkable is the intelligent all-wheel drive system, which offers drivers three driving modes from which to choose. Auto mode is the most fuel-efficient, as it sends most of the power to the vehicle's front wheels and only engages the rear axle when absolutely necessary. The Sport mode sends up to 50 percent of the RAV4's power to the rear wheels and offers improved cornering due to the fact that it engages stability control to deliver torque when a turn is occurring. The Lock mode, for its part, works only under 25 mph and is essentially in full-time four-wheel drive mode. It will enable drivers to get out of muddy situations, etc.
Improved Fuel Economy: What the new RAV4 loses in power, it makes up for in fuel-efficiency. The FWD model is rated at 24 mpg in the city and 31-mpg on the highway, while the all-wheel drive variant is rated at 22-mpg in the city and 29-mpg on the highway.
Three Available Trim Levels: LE, XLE, and Limited trims are available, and each model comes standard with 60/40 split rear seats that both fold and recline, Bluetooth connectivity, a six-inch touchscreen audio system, a rearview camera, stability and traction control, and anti-lock disc brakes.
Luxurious Features: Heated mirrors, fog lights, dual-zone climate control, and a power moonroof are included with the XLE model, while the Limited trim adds such features as heated front seats, a power driver's seat, and comes with options such as a premium audio system and a blind-spot monitoring system.
A Sleeker Exterior: A more attractive exterior features a swing up rear hatch (instead of the side-hinge setup), a power-operated liftgate on the Limited model, and a more angled rear profile.
The new RAV4 will find competitors in several recently designed SUVs, including the Mazda CX-5, the Honda CR-V, and the Ford Escape. Base pricing has yet to be announced, but we doubt it will jump much higher than the current price tag of $23,460.
What do you think of this new SUV? Reviewitonline.net wants your opinion, so be sure to leave a comment and let us know what you think, and don't forget to stay here for additional auto news!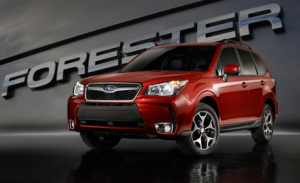 Great news, Subaru fans! If you're searching for official images of the all-new 2014 Subaru Forester crossover SUV, which will be showing its face for the first time in North America at the L.A. Auto Show later this month, the first set is now available! The brand-new Forester joins a much roomier cabin and a more aggressive profile than previous models with relatively the same carbon footprint as its predecessor.
The new Forester is the fourth generation of the vehicle, and it will be powered by the brand's new 2.0-liter direct-injection turbocharged BOXER engine, which will be paired with a new six-speed manual transmission to replace the standard naturally aspirated 2.5-liter BOXER engine first introduced for the 2012 model. Due to this new engine, fuel-efficiency will be up quite a bit for each trim across the lineup, though there's been no word on the official ratings yet. We do know that it's the most recent model created under the brand's new Motion-V strategy, which aims to reduce the auto brand's emissions and fuel consumption by 30 by 2015, joining such new models as the Outback Sport.
We've also discovered that there will also be an available CVT (continuously variable transmission) and Lineartronic transmissions. A new Turbo model Forester will be offered for 2014. The turbo unit is modeled after the BOXER engine found in the Subaru BRZ sports car, but it receives Subaru direct-injection technology instead of the Toyota system traditionally found in the BRZ.
The Forester has been one of the brand's best-sellers since it made its debut some 15 years ago, due to its fantastic blend of car-like handling and SUV versatility and comfort. To increase this optimal combination, the new Forester will feature a new suspension system that will deliver an even more luxurious ride quality and extremely agile handling. To increase this excellent handling, the new SUV has a generous amount of space from the ground- at 8.7 inches.
Inside, the 2014 Forester will be roomier than ever, featuring a bigger cargo area and increased legroom for front and rear seat passengers. Of course, the latest technology features will be available for new Forester drivers, including a backup camera, a navigation system, Bluetooth smartphone integration, a Harman/Kardon premium audio system, 17- and18-inch wheels, seating for five, and more.
The Subaru Forester crossover SUV has been manufactured since 1997 and shares its platform with the Subaru Impreza. It was first introduced as a compact crossover SUV, but after a decade of production, it expanded into a mid-size crossover SUV. It slots between the Subaru Impreza and the larger Subaru Legacy in terms of price.
For more updates on new SUV models, stay tuned here with reviewitonline.net. We always have the juiciest bits of auto gossip, and we certainly enjoy sharing them with you! Excited about the arrival of this new Subaru SUV or another new SUV model? Be sure to comment and let us know the models you're most interested in seeing on showroom floors in the near future!