Tag Archives:
2013 hummer h4 suv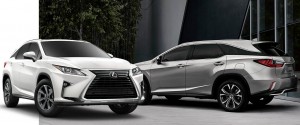 There is a range of updates that can be found in the newest RX and NX SUVs by Japanese luxury carmaker Lexus. For the 2019 model year, the large and the mid-size SUVs, the Lexus RX and the NX, respectively, will receive a range of new trim and technology.
Lexus' three-tier trim structure will dominate the changes in the SUVs. The structure gives customers the option to choose a base model (RX or NX), a mid-range model (F Sport), and a top-of-the-line (Takumi).
The Lexus RX, the base model, will come with 18-inch alloy wheels, leather upholstery, heated and cooled front seats, an eight-inch infotainment system, and front and rear parking sensors. There's only one engine available for this range and it's going to be a 3.5-liter V-6 petrol-hybrid that makes 308 horsepower and is fuel efficient at a rate of 37.4mpg.
The RS F Sport models add a heated steering wheel, adaptive suspension, a powered hands-free tailgate, an aluminum pedal set, F Sport steering wheel and a revised grille. It has a starting price of £55,200 ($69,800), sans options. The range-topping Takumi models, on the other hand, will come with a hefty price tag of £61,700 ($78,000). That price will get you power-folding and heated rear seats, a head-up display, a 15-speaker Mark Levinson stereo, blind spot monitoring system, automatic LED headlights and memory settings for the electric seats, steering wheel, and door mirrors.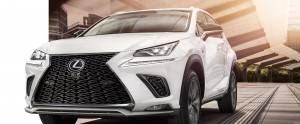 The new NX has the same trim levels as the RX with the base model arriving with standard features such as 18-inch alloys, heated front seats, and an eight-inch touchscreen display. A 2.0-liter turbocharged four-cylinder petrol-hybrid that produces 192 horsepower will be its powertrain. Economy fuel rating is pegged at 54.3mpg.
Finally, the NX F Sport has a starting price of £41,500 ($52,530) and adds an F-Sport steering wheel, a set of F-Sport 18-inch alloy wheels, a range of F-Sport exterior styling details, LED headlamps, a powered tailgate and leather upholstery.
The Takumi trim is priced at £45,500 (57,590) and comes with a panoramic roof, heated and ventilated front seats, a head-up display, a 14-speaker Mark Levinson stereo, blind spot monitoring, and a 360-degree view camera.
What comes to your mind when you hear the word 'Hummer'? Definitely it will be nothing but a huge and bold SUV that might just run over any other vehicle leaving it a complete piece of trash! Well, you might need to feed some new data into your mind as the brand will now be bringing a new smaller SUV, which looks and performs as brutally as its elder brothers do!
Realizing the fact that the world has started to prefer compact SUVs and crossovers over the larger ones, the company has finally decided to bring in some products which are not as huge as boulders. Yes, we are talking about the beautiful Hummer H4 concept SUV, which is nothing less than an extreme beast!
Hummer has stated that the H4 will be great choice for those who travel a lot off road. What else do the 35 inch diameter wheels yell in your face? Besides the huge wheels, the H4 also comes with an impressive array of equipment which makes it one of the best off road SUVs. It is based on the HX concept that the company unveiled back in 2008. The engine statistics that the SUV features will also make you realize why the vehicle is such a beast. We would also like to mention that the H4 is a two door SUV, and each and every inch of the vehicle shouts manliness like no other vehicle does!
We consider calling the engine that the SUV features under its hood downright insane. What other adjective do you think would fit in best for the 3600cc direct injection V6 engine that comes with the monster? Yes, this engine for a two door SUV! The engine would provide some insane power to the huge wheels. The machine features an all-time four wheel drive system with locking front and rear difference. The 35 inch wheels are also combined with a feature which can reduce vibrations to a great extent. Your ride will hence be smooth at not so smooth terrains as well. Expecting a legendary off road driving experience from this beast is obvious!
We mentioned above that every inch of the SUV stinks of manliness, and we surely mean it! You can tell by a single glance that the H4 is perhaps one of the most robust SUVs that have ever been built. The front grilles as well as the head lamps are ordinarily shaped, but there is just something about the H4 that instantly makes you fall in love with it! The interiors of the 2013 version are also quite elegant and futuristic. With cleaner and spacious interiors and the amazingly comfortable seats, you will feel like you are sitting in some luxurious sedan, just a bit more aggressive!
The SUV is being produced in China, and will be out for sale soon. Hummer has faced a very huge blow to its reputation since the rise of the compact SUVs. We certainly hope that the massive improvements accompanied by the brutality that Hummer was known for will certainly help it rise and shine once again!