Tag Archives:
2013 infiniti jx
Infiniti rebadged its sporty FX midsized crossover range including the V6 powered FX37 and V8 engined FX50 as the QX70 as a part of the manufacturers new Q-based nomenclature system. The new sports beauty is due in late 2015 or early the following year. Proudly maintaining the bold styling of its predecessors the 2014 Infiniti QX70 will be the crossover's third iteration. The changed name is no reason to be fooled for apart from the new moniker, the QX70 still remains identical to the last years FX and hence is still one of the most drover-focused crossovers in the market all credits to the platform shared with the agile and sporty Nissan 370Z sports car. A few welcome changes, however, will include more interior space in order to alleviate one of the main drawbacks of the current model. Along with that a cushier cabin is also a plus point for the new SUV.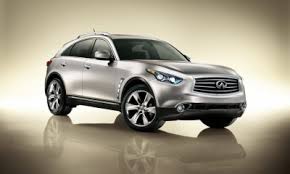 For a change, it is sometimes alright to judge a book by its cover. The new QX70's muscular lines and aggressive stance speaks all about the crossover and suggests that this little monster is all about performance and it certainly carries under its metal veils just the right stuff to back up that impression. Strengthened by a version of the RWD-based architecture shared by the 370Z, the QX70 is nimble with its responses to control inputs and offers a taut, yet not uncomfortable ride. Offering its customers a choice between couple of stout powerplants, QX70 comes in a standard and an optional engine variation. The standard motor which is a 3.6 liter V-6 engine generates 325 horsepower and 267 pound feet of torque. The optional engine is a 5.0 liter V8 which elevates the output by 65 generating about 390 ponies and impressive 369 pound feet of twist which, in fact, is enough to cruise up the vehicle to 60 mph from rest in a sprint time of just over 5 seconds. Both the engines are mated with a seven speed automatic transmission. While the V6 is based on rear wheel drive as standard but can be optioned with all-wheel drive, the V8 is available exclusively with all wheel drive. Fuel economy for the FWD V6 and AWD V6 is rated as 17/24 city/highway mpg and 16/22 mpg respectively while the V8 returns 14/20 mpg.
On the inside, the new QX70 welcomes its passengers with a sybaritic cabin manifested with plush materials like soft leather, brushed aluminum and genuine wood trim. Since there is no iDrive-style infotainment controller, conventional buttons flourish. Sadly, offering just 24 cubic feet of trunk room, which is less than some "compact" crossovers like the Honda CR-V, a compromised cargo space disappoints. However, folding the rear seats down, swells up the storage to 62 cubic feet!
Both the versions come with a myriad of additional optional feature that help customize the 2014 Infiniti QX70 according to its owner. Once unique among luxury crossovers due to its wild styling over interior space, the QX70 now competes with even more radically styles "coupe-crossovers" like the BMW X6 and Acura ZDX.
2013 is quickly approaching, and many motorists are considering replacing their aging, outdated vehicles with shiny new ones for the new year. Car buying isn't what it used to be, however, with new nameplates and never-before seen models hitting dealerships at every turn. From well-appointed luxury vehicles to cost-efficient reliable ones, drivers have never been faced with as many great choices as they are right now. So, what's an overwhelmed buyer to do? Simply consult our handy list of the hottest upcoming 2013 SUV models, of course!
This year's crop of SUVs is mainly comprised of crossover SUV models, which have all but conquered the SUV market and supplanted the traditional truck-based SUVs of the '90s and early 2000s due to their increased fuel economy numbers and more car-like handling. Many automakers now include compact crossover SUVs in their lineups, though traditional crossovers are still quite popular.
Five of the Hottest SUVs for 2013: (In no particular order).
1. 2013 Subaru XV Crosstrek: A sort of hybrid between a compact wagon and a crossover SUV, this stylish vehicle is a more rugged and higher-riding version of the popular Subaru Impreza on which it's based. As with all Subaru models, this stylish crossover comes standard with all-wheel drive, though this particular model is perhaps even more impressive when mated with a gearless CVT automatic transmission. (There's also a five-speed manual trans mission available. Stand-out features include a voice and touchscreen controlled navigation with real-time traffic alerts, an HD radio, and a rear-view camera.
2. Mazda CX-5: (as seen in the included photo) This all-new crossover SUV has been touted as one of the most fuel-efficient around due to its 2.0-liter Mazda SKYACTIV four-cylinder engine that achieves a respectable 26 mpg city/ 33 mpg highway and features all-wheel drive as optional. It's sporty, and uniquely stylish, as well!
3. Infiniti JX: The all-new Infiniti JX began reeling in a ton of attention much before it premiered in production form, and it certainly doesn't disappoint now that it's here! A luxury SUV with seating for seven, advanced safety features, a roomy and elegant interior, and a stylish exterior, the JX is all that a family desires, and more. Impressive safety features include a new Backup Collision Intervention system, while a Drive Mode Select feature keeps the journey smooth in all weather conditions.
4. Buick Encore: A boldly-stylish new subcompact crossover with a ton of flair, this sporty little SUV boasts a super-quiet interior and smooth ride due to its active noise cancellation system. It looks quite a bit like the Chevy Sonic, to which it's mechanically related.
5. BMW X1: Both strong and sleek-looking, this new subcompact crossover SUV is also very agile and speedy. It's a bit smaller than the BMW X3, and is therefore also more cost-efficient, yet it still has features to impress even the choosiest drivers and passengers, including a start-stop function for heightened fuel economy and an advanced xDrive all-wheel drive system (standard with the BMW 35i engine and optional with the four-cylinder 28i engine) for maximum handling on wet or dry roadways.
Remember, reader, these are excellent vehicles to consider for a 2013 (or late 2012) purchase or lease! For more great advice, be sure to stay tuned here with suv.reviewitonline.net. We always have the latest news, and we can't wait to share it with you!