Tag Archives:
2014 Escape
It seems for 2014 Ford has decided to play safe and has launched its all new 2014 Ford Escape with minor adjustments in its features departments, hence keeping it more or less unchanged from its predecessor. A few notable inclusions like a rearview camera and Sync feature have become now standard in all trim levels of 2014 Ford Escape offered by the car maker. However, to make some difference this year, Ford has discounted its SEL trim level along with 2.0 liter turbocharged engine which was earlier a standard in Titanium trim level Escape. With not much significant changes, 2014 Ford Escape still stands tall among the best small crossovers which have some of the really worthwhile entries to look forward. Because Ford redesigned Escape only last year, thus they have kept its design the same with its handsome styling, sharp handling and high end luxury interiors which quite beautifully justify its marginally high price for this class of SUVs.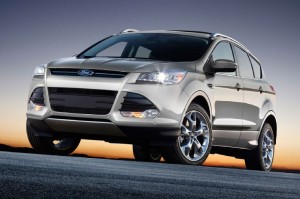 So, you don't have to look so hard at 2014 Ford Escape to understand that it is nothing more than a pumped up Ford Focus, but it has some good reason to dig deep. The platform used by Ford for Escape is same as the Focus which is quite evident in its sleek styling. Everyone knows that SUV lovers appreciate Ford Focus for versatility, quality and excellent driving character and Ford has very well translated all these features into their new Ford Escape. Undoubtedly, Escape is heavier than a Focus but it has a lot more to offer like well controlled ride and it ability to handle turns with surprising agility.
To make 2014 Ford Escape worthwhile, Ford has launched it with the trio of four cylinder engines, wherein the base level comes with 2.5 liter four cylinder engine, which is also quite typical for a small crossover with adequate performance. But the availability of optional 1.6 liter and 2.0 liter turbocharged engine makes Escape distinguishable in this class. But the 1.6 liter engine has better fuel economy and power to offer if compared to 2.5 liter engine. On the other hand 2.0 liter engine can provide upto 240 horsepower with slightly low EPA fuel economy than its 1.6 liter engine.
The interior of 2014 Ford Escape is furnished with excellent quality luxury material and is equipped with sleek looking MyFord touch electronics interface, which gives you a feel of driving some really expensive car. The only negative point of MyFord touch is that at times it behaves a little finicky and becomes difficult to handle because of slow response and glitches. The price of 2014 Ford Escape is quite high if compared to direct rivals, but with its reasonable equipments it represents solid value for this class crossover.
In small SUV segment, there are some more feasible and pocket friendly choices like the Honda CR-V, Toyota RAV4 with almost same engine and ample cabin room along with better reputation in the market for safety and reliability. Mazda CX-5, Chevrolet Equinox, Hyundai Santa Fe Sport and Subaru Forester are also some of the choices to be considered.
It was only last year that the Ford Escape escaped from its box-like, SUV influenced past and emerged from a transformation, turning into a rakish, sporty and more car like crossover with crisp handling, forceful engines and even a slightly increased passenger space. The 2014 Escape steps into the new year mostly unchanged, although the Escape SEL trim has been dropped from the line up. Interestingly, there isn't even any need for a change on this model of Escape as yet. The consumers in America have just started to notice and get used to the new look of Escape. The "SUV people" would remember how the Escape did its best impression of the first- generation Explorer from 2001 to 2012, down to the grille and window shapes and even the outdated graining of its interior plastics. This 2014 Escape is everything but that! A raffish and confident profile with an aggressive road-going stance on the outside and a sporty, almost cockpit like layout inside, the new 2014 Ford Escape is built to take breaths away.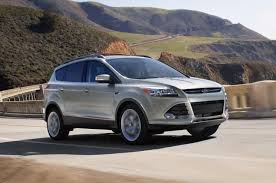 The impressive athletic look of the 2014 Ford Escape is validated by its road manners. The Mazda CX-5, however, makes it impossible for other compact crossovers to stand in competition with its amazing handling, the Ford Escape handles equally beautifully. There is a myriad of choice in what you desire under the hood of your 2014 Escape. Ford turns to a trio of four-cylinders, replacing its former four-cylinder and six-cylinder engines and the much-loved but discontinued Ford Escape Hybrid. The base engine that powers the 2014 Ford Escape is a carryover 2.5 liter four cylinder grunt meant for fleets, while the mainstream choice is a 1.6 liter turbocharged four-cylinder with straight line acceleration producing 178 ponies, competitive with its chief rivals, the Honda CR-V and the four-cylinder Toyota RAV4. Leading the charge is a 2.0 liter Ecoboost four cylinder engine capable of producing 240 horsepower and accelerating the compact crossover to 60 mph from rest in a sprint time of less than eight seconds (faster than Mazda CX-5). A six speed automatic transmission is standard with all models.
Do not make the mistake of confusing the sleeker look of the new Ford Escape with less passenger space. The front seats are slim and rather firm and the SUV offers just enough space for two adults to sit in the back. The cargo hold is larger and the rear seats fold and flip down its own headrests to add to the storage space. The interiors hold a modern look that is less familiar and bolder. Chiseled, contoured and heavily styled instrument panel, as said before, looks more like a cockpit. Even the exterior of the 2014 Escape is now modern with passing resemblances to the new Hyundai Santa Fe Sport or Mazda CX-5.
Taut ride quality, impressive handing, an easy to indulge in cabin and extremely stylish body mated to a potent engine makes Ford Escape one the very fine crossovers in its class. While tough competitors like the Mazda CX-5 and Honda CR-V stand right next to it, the 2014 Ford Escape should be highly considered.