Tag Archives:
2014 Ford Escape
It seems for 2014 Ford has decided to play safe and has launched its all new 2014 Ford Escape with minor adjustments in its features departments, hence keeping it more or less unchanged from its predecessor. A few notable inclusions like a rearview camera and Sync feature have become now standard in all trim levels of 2014 Ford Escape offered by the car maker. However, to make some difference this year, Ford has discounted its SEL trim level along with 2.0 liter turbocharged engine which was earlier a standard in Titanium trim level Escape. With not much significant changes, 2014 Ford Escape still stands tall among the best small crossovers which have some of the really worthwhile entries to look forward. Because Ford redesigned Escape only last year, thus they have kept its design the same with its handsome styling, sharp handling and high end luxury interiors which quite beautifully justify its marginally high price for this class of SUVs.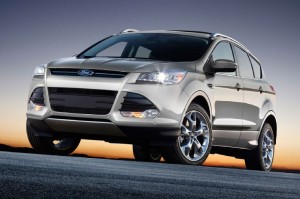 So, you don't have to look so hard at 2014 Ford Escape to understand that it is nothing more than a pumped up Ford Focus, but it has some good reason to dig deep. The platform used by Ford for Escape is same as the Focus which is quite evident in its sleek styling. Everyone knows that SUV lovers appreciate Ford Focus for versatility, quality and excellent driving character and Ford has very well translated all these features into their new Ford Escape. Undoubtedly, Escape is heavier than a Focus but it has a lot more to offer like well controlled ride and it ability to handle turns with surprising agility.
To make 2014 Ford Escape worthwhile, Ford has launched it with the trio of four cylinder engines, wherein the base level comes with 2.5 liter four cylinder engine, which is also quite typical for a small crossover with adequate performance. But the availability of optional 1.6 liter and 2.0 liter turbocharged engine makes Escape distinguishable in this class. But the 1.6 liter engine has better fuel economy and power to offer if compared to 2.5 liter engine. On the other hand 2.0 liter engine can provide upto 240 horsepower with slightly low EPA fuel economy than its 1.6 liter engine.
The interior of 2014 Ford Escape is furnished with excellent quality luxury material and is equipped with sleek looking MyFord touch electronics interface, which gives you a feel of driving some really expensive car. The only negative point of MyFord touch is that at times it behaves a little finicky and becomes difficult to handle because of slow response and glitches. The price of 2014 Ford Escape is quite high if compared to direct rivals, but with its reasonable equipments it represents solid value for this class crossover.
In small SUV segment, there are some more feasible and pocket friendly choices like the Honda CR-V, Toyota RAV4 with almost same engine and ample cabin room along with better reputation in the market for safety and reliability. Mazda CX-5, Chevrolet Equinox, Hyundai Santa Fe Sport and Subaru Forester are also some of the choices to be considered.