Tag Archives:
2014 honda accord hybrid
Honda has been a big player in the automobile industry for a while now. Though it has managed to remain abreast of all techno-revolutions happening in the car-world, like other brands, it has faltered too, and the discontinued hybrid Accord model sold from 2004 to 2007 is a reminder of that. However, with the 2014 Accord Hybrid model, Honda is expected to redeem itself, or at least it seems so, from all the specifications that have been promised.
Envisioned as a mid-segment sedan targeting a growing market, the 2014 Honda Accord Hybrid is designed to impress. In terms of exterior styling, the 2014 hybrid model is similar, if not identical to the redesigned 2013 Accord gasoline models. The only differences include – a bolder grille and front wheels, different wheels, LED taillights and a lot of blue in the interior (consoles and décor). By retaining the design of the iconic and extremely successful 2013 Accord model, Honda has ensured that they cash in on the popularity of the earlier vehicle, while marketing it based on the exemplary fuel efficiency.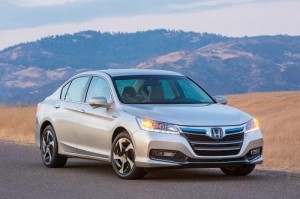 The expected EPA rates for this model, when announced by Honda, created a media furor and not without reason. Beating all its contemporaries including Toyota Camry, Kia Optima, Hyundai Sonata and even Ford Fusion, the 2014 Honda Accord Hybrid promises a mileage of 49 mpg in the City (highest in this segment), 45 mpg on the Highway and a combined figure of 47 mpg. Its only competitor which offers such figures is the Ford Fusion Hybrid which claims to offer City/Highway/Combined mileage of 47/47/47 mpg respectively. However, the promising 2013 Fusion model is known to have under-achieved in real-world usage, falling short of the manufacturer's claims. The automobile world is now waiting with bated breath for the 2014 Accord Hybrid version, wondering whether it will live up to its promises or not.
Interestingly, Honda's upcoming Hybrid model will have three driving modes which is the standard convention for mid-size hybrid sedans in current times. With a 2.0 liter four cylinder engine and a pair of efficient electric motors, ultimately, the Accord Hybrid can be driven in EV, Hybrid or Engine mode, depending upon which power sources is most efficient at a given time. As the nomenclature indicates,EV Driveimplies that only the electric motor is being used for power; viable at lower speeds during light-load highway stints. Hybrid Drive entails a combination of both the engine and electric motor for propulsion whileEngine Drivemeans engine power goes to the front wheels while the electric drive is not used.
The 2014 Accord Hybrid refers to the non-plug-in Hybrid version; Honda has already released the Accord Plug-In Hybrid model sometime in early 2013 is few parts of the world. The new, 2014 Accord Hybrid model, however is yet to hit the market. If reports are to be believed, it shall be brought to the market in the Fall of 2014, just a few months from now. Unlike the Plug-In model which was distributed only in limited markets, this version will thankfully be available in greater volumes.