Tag Archives:
2014 jeep cherokee
Jeep's impudent Cherokee 2014 is rescheduled to launch with a delay of one month than pre-planned because of 'a wide range of issues' as cited by Mark Chernoby, Chrysler's VP. The 2014 Cherokee which was initially set to roll out in May is now been put forward to mid-June as some issues need to be revamped, Chernoby mentioned assuring they have adequate inventory till the fall.
The new Cherokee houses options for both front-wheel and all-drive versions and becomes the first mid-size crossover SUV to achieve Cherokee's cutting-edge ZF nine-speed transmission which needs to be recalibrated pre-launch while refining tasks at assembly line for making the process more efficient is another essential motive for the delay. For European markets a Fiat sources 2.0L engine will be worn by the 2014 beast while Chinese version, Ziyou Guan will boast a smaller 1.4L turbocharged engine and the production will commence late in 2014. The sales in Europe are believed to kick off by September.
The last jeep product bearing the Cherokee plaque was adorable enough to survive a long ownership changes and culmination of similar competitors until its sad demise at the expanses of Diamler in 2001. Cherokee since its launch in 1984 had maintained an ardent reputation and superior boxy looks, known traditionally as XJ. Now, after a renowned run of first Cherokee in the name of Liberty, Jeep is set to bring back the name Cherokee to the US.
Chrysler's 2.4L, 184 hp four cylindered "Tigershark" is standard variant on board and is available with engines in base sport. The Limited, Latitude and Trailhawk can be elevated to a 3.2 litre V-6 Pantesar with a power of 271 hp. Whilst all version are premade with a default front-wheel drive system, Cherokee offers a set of three distinct 4X4 driveline experience that negate its suburban looks, hiding enormous power under the hood. Jeep Active Drive I which is facilitated on Limited, Latitude and Sports models is fully automatic which provides a Power-Takeoff Unit (PTU) system which is meant to enhance both over and under-steer conditions and yield balanced torque distribution by braking systems. Jeep Active Drive II is also available on Limited, Latitude and Sports models and also offers a two-speed PTU.
SelecTerrain traction-control orientations with allowable configurations optimize driveline operations for prevalent conditions. Settings incorporate Snow, Sport, Sand/Mud, Auto or Rock modes for stability electronic breaking, hill descent and ascent and required safety.
Contrary to the traditional Liberty housing, which was horrible with both design and execution, Cherokee appears with contemporary details and materials. Heated and ventilated power-adjustable seats are available   which come wrapped in leather or premium clothing. Soft touch items are replacements for Liberty's low grade plastics while 60/40 split folding of rear seat serves comfort and loading ideals. Rendering a heated steering, with standard mounted controls, as well as wireless charging make rides more joyous and convenient.
The compact SUV crossover segment globally has been a heated sphere and Jeep's entry was much apprehended. The Cherokee is believed to invite huge public interaction and dwindle the popularity of other competitors with its effective brand image and a much loved nameplate.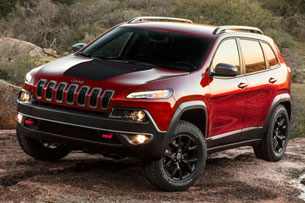 2014 Jeep Cherokee All Set to Rule the Market!
A bit more than a month ago, revealing photos of the amazing new 2014 Jeep Cherokee were leaked online. Jeep acted quite diligently and launched some of the official pictures of the SUV which they had been keeping in store for the official launch. This helped keeping the leaked pictures to a low as the official pictures suppressed them. Now after the SUV has been released in New York, Jeep released many other pictures of the Cherokee, revealing the exteriors completely. Some of the snaps even show how gorgeous the interiors are! Read along and discover more about the new 2014 Jeep Cherokee SUV!
Talking about the exteriors and the pictures, we can assure you that no matter how aggressive and mighty looking of an SUV you might have dreamt of, the 2014 Jeep Cherokee will blow you off. With amazingly stylish headlights, the Cherokee will probably be the most aggressive looking SUV out there. The front of the vehicle is carved into an extremely aerodynamic design. Moreover, the front look of the vehicle is enhanced by the iconic and gorgeous Jeep styled seven slotted grill. The rear exteriors are equally elegant and complement the fronts quite well.  The tail lamps are also very stylish and the symmetrical setting of the exhausts makes up quite a bold look!
The 2014 Jeep Cherokee will be available in four different models – Sport, Latitude, Limited, and Trailhawk. Jeep will possibly be offering options among all wheel drive and front wheel drive systems. Buyers can choose on the basis of their engine requirements as well, as their will be a choice between a 2400cc four cylinder engine and a 3200cc Pentastar V6 engine. The latter one is a newer feature and is clearly the stronger one of the two. The 2400cc engine will provide the wheels with a power of 184 horsepower while the 3200cc V6 will impart 271 horsepower power. Hence, you have a diverse variety ranging from a family SUV to a speed freak's SUV to choose from! These engines will be combined with an amazing nine speed automatic transmission, which will be seen for the first time in this category of SUVs.
Jeep also claims to have incorporated over 70 different safety features in the SUV, and says that the new Cherokee will set a new level among on road SUVs. "The all-new 2014 Jeep Cherokee will be the benchmark for mid-size SUVs with a new level of on-road driving dynamics and fuel economy, while at the same time improving the 4×4 capability that customers expect from Jeep," said Mike Manley, President and CEO – Jeep Brand, Chrysler Group. We have seen a large number of hydrogen based concepts and newer SUVs with much better fuel economies than traditional ones. The 2014 Jeep Cherokee also boasts of a hugely improvised fuel economy. Jeep claims that the new Cherokee will be able to deliver a fuel economy as high as 31 miles per gallon (13 kilometres per litre) on highways. The new Cherokee will be assembled in Toledo Ohio, and is set to hit the roads somewhere later in this year.
Image thanks to www.autoblog.com