Tag Archives:
2014 Mitsubishi Outlander Sport
To beat the competition in 2014, Mitsubishi has reintroduced its 2014 Mitsubishi Outlander with extensive redesigning and inclusion of several notable features like improved mileage, third row seat, nice and luxurious interior along with use of advanced technology in several features. Every SUV loves likes to root for an underdog SUV but to an extent only and undoubtedly 2014 Mitsubishi Outlander is an underdog for the thriving small SUV segment. Despite some significant improvements which it has shown this year, you will not find Outlander as your first choice to buy an SUV when the market is flourished with fully loaded feature packed options. Although, market reviewers are considering 2014 Mitsubishi Outlander a solid entry still it has its own drawbacks if we take a close at it moneywise as well as feature wise.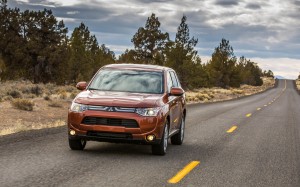 Consumers who are in constant search for a different kind of small crossover, the third generation Outlander by Mitsubishi have a number of things that make it fall under this different category. To start with, the tweaked powertrain with improved aerodynamic styling amalgamated by improved EPA fuel economy are some of the features that add value to the Outlander. The 2014 Mitsubishi Outlander is now capable of providing 31 mpg highway, which is an above average number for a seven seat crossover. If you look at the combined mpg for Outlander which is altogether a more important criteria, it goes up to 2 mpg for four cylinder as well as V6 engine. This year Mitsubishi has done some welcome changes in the interior of Outlander to make it more overhauled. Improved material quality, stylish design and high tech telescoping steering wheel, which is good for driver's comfort and sturdy third row seating have become standard across all trim levels of Outlander.
Optional features like collision avoidance, adaptive cruise control, and lane departure warning system have surely added an advantage in Outlander over its competitors, additionally Mitsubishi has announced to plug in its hybrid model as well later this year to increase its market probability. But unlike any other seven seat crossover, 2014 Mitsubishi Outlander also has its share of drawbacks which negatively affect its changes in the market among which some of the prominent ones are its conventional lack luster engine which is very uncommon for this class, cramped third row seats which make it ideal for kids only and Mitsubishi's small dealer network is another major drawback that can reduce its chances in the market to a large extent.
Keeping all such factors in mind, it's actually better to look for 2014 Mitsubishi Outlander's alternatives and in this case even five seats passenger crossovers can be a competition for Outlander. Ford Escape, Honda CR-V, Mazda CX-5 and Toyota RAV4 are some of the most convenient and prominent options to look for. However, in seven seat segment there are some other options like the Kia Sorento and Hyundai Santa Fe, which obviously are far better than Outlander in every possible manner. Although, Outlander has a tough competition to face in 2014 SUV market, but the underdog is still worth a look in compact crossover segment.
An SUV in truest of the essence, the 2014 Mitsubishi Outlander Sport carries equal amount of sportiness along with the "utility" part that is usually available in a lot of crossovers. There are a handful of SUVs that actually look sporty and Mitsubishi Outlander Sport does just that, rightfully justifying its name. The 2014 Mitsubishi Outlander Sport is the Mitsubishi Outlander from the previous year and it remains mostly unchanged for the model year 2014. While the Outlander 2014 is a bit bulky, the 2014 Outlander Sport is a compact, agile and lighter crossover. Also, the SUV screams "sport" from its exteriors. The grille, the hood and the headlamps, all combine to create this amazingly muscular front façade of the 2014 Mitsubishi Outlander Sport, adding to the implied sportiness from the vehicles name.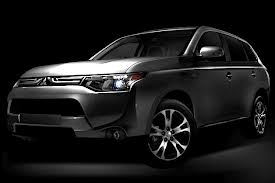 However when we say, there are a handful of crossovers that actually look sporty, it must be kept in mind that there are a fewer that actually drive sporty as well. Sadly, the 2014 Mitsubishi Outlander Sport doesn't qualify to be among those "fewer" SUVs. Apart from its absolutely sporty frame cruising on the absolutely sporty 18 inch alloy wheels, the 2014 Mitsubishi Outlander Sport fails to impress as a "sports" utility vehicle. Just an above average performance along with some fine handling just doesn't make this crossover a hard core racing car, which usually people would dream about when they hear the name Outlander "Sport".
The 2014 Mitsubishi Outlander Sport is powered by a 2.0 liter inline four-cylinder engine. The grunt manages to produce 148 ponies, and about 145 pound feet of twist. The two trim levels, namely, the ES (base) and the cream-on-the-top SE, come with an option of front-wheel drive or an all-wheel drive model. The front wheel drive featuring ES trim comes standard with a five speed manual transmission. The Continuously Variable Transmission (CVT) is optional on the ES Outlander Sport. While it comes as standard on the all wheel driven ES and all SE models.
2014 Mitsubishi Outlander Sport with a front wheel drive and five-speed manual is capable of accelerating from rest to 60 mph in a sprint time of 8.8 seconds. An impressive making of time for a vehicle in such segment! However, as talked about earlier, the driving dynamics of the vehicle are not as sporty as one might expect. The acceleration and power that the vehicle offers is fine for everyday city cruising but if highway drives would need more agility and better acceleration which the 2014 Outlander Sport lacks. The handling, also, is fine and not amazing for that matter. But the soft suspension that comes as signature from the brand is quite of a savior for the vehicle giving it a plus one for a smooth ride.
The 2014 Mitsubishi Outlander Sport stands in tough competition with models like the Kia Sportage, the 2014 Mazda CX5 and the 2014 Ford Escape; latter two being a little expensive but amazingly enjoyable rides. But the reasonable pricing and impressive fuel economy makes the 2014 Outlander Sport a fine crossover.