Tag Archives:
2014 Rogue
With all the big names hitting on the small crossover market, the newly launched 2014 Nissan Rogue seems like a newcomer to many. The original model of Rogue is introduced by Nissan way back in 2008 and to make it competitive for 2014 market, Nissan has launched its 2.0 version of Rogue, which can easily be qualified as a first generation Nissan Rogue. Appealing style, excellent driving dynamics and improved cabin quality are some of the highlighted features of Rogue that can give its competitors a run for their money. Nissan, also is keeping its hopes high with the newly redesigned model and has made all possible efforts to make it the best among the class starting from its improved fuel economy, to third row seats and additional advanced technology features which have actual remedied some of the deficiencies of its old original model.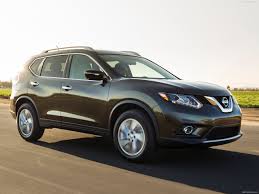 Last years' Rogue was highly criticized for its compromised cargo space, which was around 59.7 cubic foot, but this time 2014 Nissan Rogue comes with 70 cubes of cargo space, which makes it competitive for the class, additional divide-n-hide configurable rear storage system is an advantage. The earlier Nissan Rogue versions don't come with second row seat reclines and slide feature which has been added in the 2014 Nissan Rogue with the useful 40/20/40-split configuration to make the measures good for the vehicle. To make it even better, Nissan added optional third row seat feature, which has been taken as a shrewd move from the maker because its toughest competitor Toyota RAV4 has discontinued this feature. Remarkable thing about all these changes is that, Rogue offers all these features without adding anything to its weight and size.
Once we start looking under the hood of the 2014 Nissan Rogue, we found that things are more or less same in this department. Rogue carries on with 2.5 liter four cylinder engine which is capable of generating 170 horsepower along with revised and variable transmission. The powertrain is capable enough to offer satisfactory performance along with improved fuel economy. Combined 28 mpg EPA with four wheel drive makes Rogue one of the most economical non hybrid SUVs to spend on.
Despite all the glittery and obviously appealing improvement, Nissan's Rogue still fails to outdo its rivals in some areas and this where it lacks to match the competition. If you are looking for more power, then 2014 Nissan Rogue is absolutely of no good, instead you can look up to Kia Sorento which boasts off robust V6 engine with third row seats to give Rogue tough competition. Softened suspension of Rogue is a bit disappointing, which makes its handling tepid if compared to other smarter and fuel efficient SUVs like 2014 Mazda CX-5. 2014 Hyundai Santa Fe Sport can also be a good option if looking for smart performance with a unique sense of style.
You may not find 2014 Nissan Rogue to be the best at everything but its quite extensive range of talents seems to attract more people towards it especially the ones looking for compact crossovers with modest price.