Tag Archives:
2014 Tucson
These days using the term compact crossover seems like a misnomer to many, but with the arrival of improved 2014 Hyundai Tucson, it seems that the trend for compact SUVs is surely going to make a comeback. Measuring about 173.2 inches from its starting point nose tail, the new Tucson is somewhere around 7 inches shorter than Toyota's RAV4, while on the other hand, Hyundai has kept Tucson 14 inches shorter than the Equinox by Chevy. Tucson trails its competitors in terms of passenger and cargo space has come as no surprise to us but when you look at its great maneuverability, you will find that the space issues have been compensated beautifully making 2014 Hyundai Tucson a complete fun to drive vehicle. For those looking forward for a hatchback on tip toes, Tucson surely fits the bill beautifully.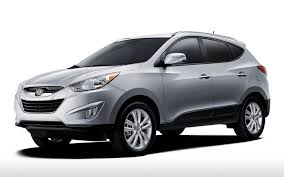 This year, Hyundai has introduced some notable changes in its Tucson's credentials to make it more enhanced and appealing, some of the primary changes include tweaked styling along with revamped model lineup as they bid adieu to the sparsely equipped GL trim level from last year and making the former midgrade GLS the base trim level for Tucson, which means that the even the basic and the cheapest Tucson will come equipped with all the standard features that make it worthwhile. the well stocked SE trim level is also something to look forward as it has been designed in a way to bridge the gap between GLS and limited. Hyundai has also shown significant improvements in Tucson's infotainment department with an update of new touchscreens, the SE and limited trim levels comes with standard 4.3 inch unit, whereas customers spending on Limited trim level can opt for a 7 inch setup which is available with optional navigation system. To make 2014 Hyundai Tucson more competitive, the company has reworked on its engine technology and has introduced new direct fuel injection technology, however the additions fail to make any significant changes in its fuel economy and output as it remains same.
Like any other crossover, 2014 Hyundai Tucson also has its share of flaws even if you keep its size concerns at the backburner. The rear seat doesn't comes with sliding option but has an improved reclining feature. The base level 2.0 liter engine lacks punch and even its sporty handling comes at a hefty price, but the ride quality remains on the firmer side. 2014 Mazda CX-5 can be versatile and dynamic alternative for 2014 Hyundai Tucson as it comes with 2.5 liter engine, whereas the 2014 Ford Escape is strikingly similar to Tucson but offer more technologically advanced features.
If you are open for a smaller SUV then look for 2104 Mini Countryman or affordable and less chic Nissan Juke. Kia Sportage can also be feasible option as it is same as Tucson mechanically and comes with additional turbocharged power which is good for people who like sporty performance. However, 2014 Hyundai Tucson still remains a solid option especially with the improvements it has come up with in 2014.
Hyundai, being one of the best sellers of automobiles in the entire world, has been posing extreme competition for other major companies like Toyota, Ford, Volkswagen, etc. Not just in the field of sedans and hatchbacks, but also in the case of crossover SUVs, Hyundai has shown amazing performance. One of its products, the Hyundai Tucson, which has proved to be a huge success as it runs most of the streets of many countries, has received many changes and will come out as a 2014 Hyundai Tucson version next year. Not to mention, the 2014 Hyundai Tucson has been declared as one of the most curvaceous and stylish looking crossover SUVs of the market!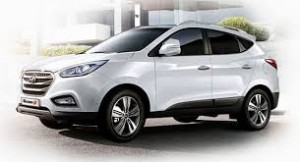 The changes made to the 2014  Hyundai Tucson version have been done keeping in mind that the SUV demanded more power and control as compared to the previous models. Hence, it has received a new and much powerful engine in all its trims. Not are these engines much more powerful, but they also boast of better efficiency than previous ones. Also, the new models boast of better rides and handling statistics. As is apparent from these changes, Hyundai was mainly concentrating on enhancing the ride and driving statistics of the SUV. However, the changes are not only limited to this one field. The company has also made changes to the interiors of the vehicle. There is increased space in the interior cabins. However, Hyundai hasn't made use of very undesirable upholstery, and the interior feel could have been much better!
All thanks to the amazing and modern looks, the company didn't really need to make any changes to the exteriors of the SUV. However, there are new LED lamps to be installed in the headlights of the SUV, adding a new and modern touch. Also, some trims of the vehicle will offer a panoramic sunroof, making thing more luxurious!
Speaking of trims, the 2014 Tucson will come in four different trims – FWD 4-Door GLS, AWD 4-Door GLS, FWD 4-Door Limited and AWD 4-Door Limited. As their names suggest, the base model features a front wheel drive system while all others feature all-wheel drive systems. Also, the two higher models feature 2400cc engines while the first two feature 2000cc engines. Worthy of mentioning, these are new direct injection engines equipped with new Sachs dual-path dampers. These dampers were added because of complains about the previous Tucsons being a bit harsh in ride. These new dampers have been incorporated in such a manner that it has enabled the SUV to deliver comfortable rides without distorting handling. Also, another amazing thing is that Hyundai won't be offering manual transmissions for the 2014 Tucson, and all the trims will feature automatic transmissions.
The base models of the 2014 Hyundai Tucson include all basic luxury features. Interestingly, all the models of the SUV will now feature comfortable, the 2014 Hyundai Tucson SUV would have definitely made it up to the top in the entire SUV Market!