Tag Archives:
2015 Lincoln MKC
The name of the new Lincoln seems more like a stock market symbol, which is giving us the hard time to keep our Lincolns straight. But no matter how you feel about its name, the 2015 Lincoln MKC is a genuine as well as competitive compact luxury crossover in every possible manner.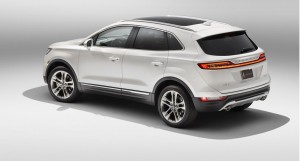 The advantage that MKC has on its side is the availability of good genetics, because the mechanical base of 2015 Lincoln MKC is based on the tried and tested excellent Ford Escape. This time Lincoln has laid great focus on the word 'based' because going by their history the car maker has always remained akin to changes in the oval front shape of Ford and replacing it with the Lincoln Badge. Although the new MKC doesn't look any close to the Escape and it looks more like an imitation of Audi Q5, but that's a different story to talk about. There is no denying that the 2015 Lincoln MKC has drawn its inspiration from the distinctive liftgate as well as integrated taillights of Audi Q5, which gives the profile of both the vehicles a distinctively similar look. But the addition of winged grille on its front is purely Lincoln design, which has actually added an overall pleasing effect which also looks good to the eyes. The cabin of the all new 2015 Lincoln MKC is also very pleasant with wood ascents which are not only tasteful but sleek as well complimented well by the high tech dashboard.
Under the hood, the MKC comes with the powerful turbocharged engine of the Escape as a standard equipment. The 2.0 liter turbocharged engine with four cylinder has the ability to produce 240 horsepower along with the torque of 270 pound feet. If you are looking for a performance oriented MKC then you have the option to choose turbocharged 2.3 liter four cylinder engine option which is capable of producing 285 horsepower and 305 lb feet of torque for enhances performance. Athletic handling of MKC beautifully compliments its power and performance. While test driving MKC, we reached to the conclusion that it drives more like hatchback on its tip toes rather than a nearly 2 ton weighing crossover SUV.
No matter how desirable you find the new 2015 Lincoln MKC, there are other exceptional models in the market to look forward in this segment. Some of the best options to look forward include 2015 Acura RDX, more refined and stylish Audi Q5, the class personified Mercedes Benz GLK Class, sporty 2015 BMW X3 and the family hauler 2015 Volvo XC60. No matter you find the truth, but it is difficult to approve for MKC when such fantastic vehicles are already there in the market to compete with it.. But Lincoln MKC has its own position in the market and the company has kept its price lower than most of its competitors. You can go for the 2015 Lincoln MKC only if you are looking forward to buy an alternative of the usual SUV choices also its price won't hurt much on your pocket.
Most of the car lovers prefer spending their fortune on high end luxury cars that come in small packages and that has been provide quite true if we go by the recent trends of car sales, you will come to know that more and more people are showing keen interest in buying compact luxury crossovers which have also become the fastest growing futuristic car segment in the market. Every big player of luxury car market starting from Buick to Land Rover is making every possible attempt to have their own piece of share in the high class typical luxury models on their humble and existing platforms. Following the trend is 2015 Lincoln MKC, which is a newest entrant in the budding compact SUV market gives a clear indication that the American luxury car maker is in no mood to lose opportunity to make it big in the SUV segment.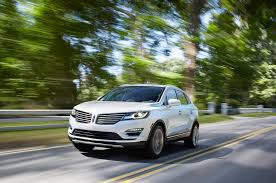 Going by the first look and feel of the flagship MKC, it becomes quite clear that it will be having the same mechanical identity as the Ford Escape. However, to make 2015 Lincoln MKC look distinctive from its blue collar counterpart company has made reflective changes in its skin over the chassis and has wider stance, one piece wraparound tailgate, signature split wing grille and LED taillamps. The initial concept model launched by the company displays sculpted hood and wheel arches that may get carried over once the production version hits the market. However, the inclusion of 19 inch wheels with attractive dark chrome finish, roof rails and grille add classy and modest touch to its appearance.
But, only the visibly good looks cannot make MKC a sure shot success in the thriving SUV market especially belonging to this class. Although, Lincoln have taken in account the complaints they have received for MKZ sedan and have ensured that the same will not be repeated for MKC. The inside looks of 2015 Lincoln MKC gives the first impression of buttons and knobs that deliver tactile control over multimedia and other climate arrange functions. This time as well, Lincoln has managed to beautifully trap all these functions with its super sensitive touch panels. This time around, they have made touchscreen the anchor of MKC's control console and user is no longer forced to punch the virtual buttons to adjust functions, which has been a drawback in older versions of Lincoln's other cars. There has been a significant and impressive cabin improvement in 2015 Lincoln MKC  with inclusion of leather seats and real wood trims.
For the entry level 2015 Lincoln MKC, there will only be standard 2.0 liter turbocharged engine with four cylinders, 240 horsepower and 270 pound feet torque. To give competition to its rivals offering six cylinder engines, Lincoln has also introduced optional 2.3 liter EcoBoost engine featuring 275 horsepower and 300 lb ft torque. The newly launched comes with standard front wheel drive whereas buyers can opt for all wheel drive feature as well.
It's true that compact crossover as the biggest growing car section, but 2015 Lincoln MKC has a long road to travel especially with tough competition coming from market leaders like Audi Q5, Mercedes GLK, Buick Encore, Porsche Macan and BMW X1/X3.