Tag Archives:
300e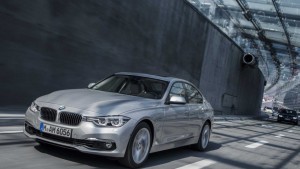 The plug-in hybrid BMW 300e iPerformance is part of the brand's 3 series lineup, albeit this one offers the option to be driven on battery power alone for a limited distance.
The 300e iPerformance comes with a four-cylinder gasoline engine with TwinPower Turbo technology mixed with eDrive technology from models like the BMW i3 and BMW i8. It can deliver up to 250 horsepower and more than 200 pound-feet of torque.
The 3 Series has already upped the bar for performance and fuel economy in the past, so it's no wonder that the hybrid is even challenging these levels. Aside from the electric system plugged into the 3 Series to ensure even weight distribution and energy savings, the 330e iPerformance will also feature the ChargeNow—BMW's service that offers more than 30,000 charging points in 22 countries.
The car has a high-voltage battery that is made up of lithium-ion cells. It has a total capacity of 7.6 kWh (gross)/5.7 kWh (net), which enables the car to go as far as 40 kilometers, making it the perfect car for city dwellers and commuters.
While taking a break, the car can be charged from either a conventional domestic power socket or a BMW i Wallbox with a charging power of 3.7 kW. This can full charge an empty battery in two hours and 12 minutes. From a domestic power socket, a full charge will take three hours.
In terms of exterior designs, there are only two changes in the BMW 330e iPerformance. First, there's a small door on the driver's side front fender for the charge port of the onboard lithium-ion battery. Second, there's the lower insert on the rear fascia for the dual exhaust outlet.
Inside, you can expect the center console to have additional drive programs such as the AUTO eDRIVE, MAX eDRIVE, and SAVE BATTERY.
The 330e will go on sale this summer with a starting price of $43,000.