Tag Archives:
4Runner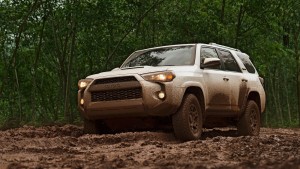 Since Japanese automaker, Toyota, just upgraded its 2019 TRD Pro family, we're all expecting for quite a bump in the price tag. Still, we are shocked to see that the increase was a whopping $3,340 over the $44,120 being collected from the 2018 model year Toyota 4Runner TRD Pro.
The price jumped to $47,460 for the 2019 edition (both the 2018 and 2019 prices include the destination charge), but the increase is a good indication of what new features we will find in the 2019 Toyota 4Runner TRD Pro. They are great, by the way. All the other trims in the lineup will get their prices bumper by $100, Toyota itself confirmed.
What we are getting for all that extra moolah are these: a completely reworked suspension in the TRD Pro lineup, a set of matte black 17-inch alloy wheels, an upgraded skid plate, and beefy Nitto tires that will help complete the overall look and performance of the new TRD Pro.
Let's back up and take a closer look at the reworked suspension Toyota is proud of. Gone are the Bilstein units and in its place is a Fox suspension that comes with 2.5-inch internal bypass shocks paired with TRD front springs up front. At the back, the setup is similar with 2.0-inch reservoirs and loads of damping.
The 2019 model year TRD Pro can be had in three colors: the Super White, the Midnight Black Metallic, and the Voodoo Blue. The last one is only available for the TRD Pro version.
The price increase should not put buyers of the 4Runner TRD Pro off. They know that in order to make this truck as gorgeous and powerful as they need it to be, they would have to spend a few more thousand bucks. The price bump should not hurt Toyota's sales in any way.