Tag Archives:
4Runner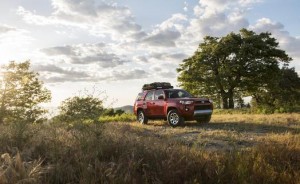 In a nutshell, the 2017 Toyota 4Runner is the auto equivalent of a multipurpose Swiss knife. It has everything you need from an SUV and more. Whatever you need it to be, the 4Runner will have your back. Thanks to its size, power, and that macho appeal, you can trust it to tow your boat, climb a mountain, carry seven passengers, and haul a variety of items such as picnic tables, barbeques, tents, and other supplies.
And yet, it still has the capacity to fit solo drivers. That is, if you love massive SUVs that can do anything you ask of it.
Strong and Dependable
No matter what you need, the 4Runner will offer comfort, versatility, and reliability because of its body-on-frame construction that features a 4-link rear axle and coil-spring suspension. You can choose between a 2WD, part-time 4WD with a two-speed transfer case or a full-time, multi-mode 4WD with a two-speed transfer case and locking center differential. All variants with four-wheel drive will have 9.6 inches of ground clearance.
There are three TRD models: the TRD Off-Road, the TRD Off-Road Premium, and the TRD Pro. Aside from these, the 4Runner is also available as the SR5, SR5 Premium, and the Limited.
Macho, Spunky, and Full of Character
Whether it's freshly bathed or looked like they were born out of mud, the 4Runner will always look stunning. Physically, it has that catchy, bad-ass look that will make heads turn on the streets. All 2017 4Runners have projector beam headlights and LED rear combination lamps. The SR5 and TRD models have 17-inch alloy wheels that are available in three different designs: the 6-spoke design will be standard for SR5 and SR5 Premium, the 7-spoke design for the TRD Off-Road and TRD Off-Road Premium, and the TRD Alloy painted matte black for the TRD Pro.
Powerful and Durable
Under the hood of all 4Runners, you'll find the 4.0-liter V-6 that can produce 270 horsepower and 278 lb. ft. of torque, thanks for being paired to a 5-speed ECT-i automatic transmission with sequential shift mode. The torque will allow the 4Runner to tow a maximum of 5,000 pounds with a maximum of 500-pound tongue weight.
Usually, the SUVs these days don't combine the utility part and sports part in a vehicle as much as they should. More, often than not, it is either of the two! And due to the "sports" part lacking a bit more than the utilities, most of the times we end up with SUVs that are amazing on roaders but not so impressive off roaders. Toyota, however, seems to be on spree of making vehicle that are just as amazing off roaders along with impressive styling and utility. One such SUV is 2014 Toyota 4Runner.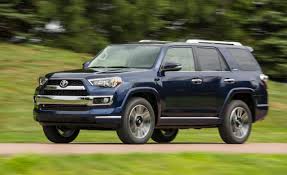 The 2014 Toyota 4Runner is an off roader, essentially. The good old body on frame architecture of the SUV implies the same. The suspension in this midsized SUV is such that, no matter how rough of a terrain you choose to test it, the SUV, and you, will come out whole and alive. Cruising on a four wheel drive, featuring low range gearing along with an option rear locking differential almost makes the 2014 Toyota FJ Cruiser almost glide through challenging terrains.
The 2014 Toyota 4Runner is powered by a 4.0 liter V6 grunt which effectively supplies about 270 horsepower and produces 278 pound feet of torque. Along with that engine, which is standard, comes the standard five speed automatic transmission. The 4Runner comes in three trim levels, namely, the SR5, Trail and Limited. The SR5 is the standard Toyota 4Runner with the above mentioned powertrain. The Limited Toyota 4Runner has an available rear wheel drive along with the four wheel drive, while the Trail's engine is coupled only to a four wheel drive system.
The 2014 Toyota 4Runner, in all its glory, can manage to tow a whopping 4,700 pounds. Impressive for a vehicle this size!
A 2014 Toyota 4Runner SR5 running on a rear wheel drive is capable of reaching 60 mph from rest in a sprint time of 7.2 seconds, while a 2014 Toyota 4Runner Trail equipped with a four wheel drive takes 8.2 seconds. The fuel economy of the rear wheel drive models rate at 19 mpg combined, while that for four wheel drives rates at 18 mpg combined. The numbers are not as impressive as they should be, considering the fact that the 2014 Toyota 4Runner is an off road centered SUV with a V6 that runs on gas.
While most of the SUVs feature driving dynamics good for finely paved roads, the 2014 Toyota 4Runner lives for the rugged terrains. While the SUV is capable of driving anyone to work in an easy and comfortable ride, it is also capable of making you slide through severe crests and troughs without even a hint of bounciness. The vehicle's transmission provides precise shifts as well.
The 2014 Toyota 4Runner is an off roader in essence. One of the toughest rivals to the 4Runner is the 2014 Jeep Grand Cherokee but the 2014 Toyota 4Runners takes it away with an available third row of seats and a better cargo capacity. Other rivals include the 2014 Dodge Durango and the 2014 Volkswagen Touareg.