Tag Archives:
597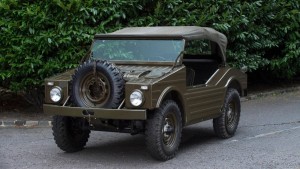 The Porsche 597 Jagdwagen was a limited edition vehicle. It was designed as a "hunting car." It was light, thanks to its simplistic engineering, but the unit may cost more than a quarter of a million dollars nowadays.
According to Autoweek, the 2019 Cayenne traces its roots back to the Porsche 597 Jagdwagen. The name of the vehicle roughly means "hunting car". The auto was made during a NATO competition to create a light army-transport vehicle similar to the American-made Jeep.
The Jagdwagen had a small design with a removable canvas roofing. It ran on a 4×4 drivetrain and powered by a rear-mounted, air-cooled, four-cylinder Porsche 356 engine. There were two power units available for the auto. One was a 1.5-liter engine and the other was 1.6-liter engine.
The more powerful 1.6-liter engine model of the 597 that was introduced in its later production stage was capable of producing up to 50 hp. All that power was distributed via a five-speed manual gearbox, which was a lot during its time. The top speed of the hunting car was at 62 mph.
The source said that the Jagdwagen only weighed 2,182 pounds, which made it highly maneuverable. It could switch between a two-wheel drive and four-wheel drive setup on the fly. It had a climb gradient of 65 percent and it can float on water, making it amphibious.
Unfortunately, after spending $1.8 million for the development of the 597, which was too much during the 50's, Porsche lost the NATO contest to DKW Munga. However, the automaker wanted to capitalize on the project after their failed entry by rebranding the light vehicle as a hunting car.
The Jagdwagen was produced from 1955 to 1957. Only 71 examples of it were ever made. At present, only 15 of it survived the test of time.
The report claimed that the 1957 model of the 597 in the pictures below was sold at the Bonhams' Goodwood auction last year for $235,331. Earlier that same year, the Jagdwagen sold as a 1958 year model previously owned by Jerry Seinfield fetched $330,000 at an Amelia Island auction.