Tag Archives:
7-Series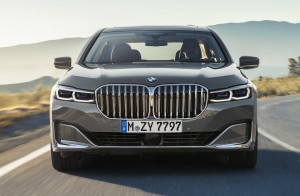 Are you a fan of the massive grille on the new 2020 BMW 7-Series? If you are and want to get your hands on it, better be ready to shell out $87,445. And that's just for the base model. The revamped full-size luxury sedan will again compete with the Mercedes-Benz S-Class which outsold the 7-Series 14,978 to 8,271 units last year.
The 740i is the base model that's priced at $87,445. The power comes from a 3.0-liter turbocharged inline-6 that makes 335 horsepower and 330 pound-feet of torque through a rear-wheel-drive configuration. The 740i xDrive model will have an all-wheel-drive but that will cost $90,445. The interior materials come standard with a 12.3-inch digital instrument cluster and a 10.25-inch screen that sits atop the center stack to serve as the infotainment system's hub.
Leather is standard for the seats but you can choose Nappa leather for an extra $1,500. Do you want the leather quilted? Then add another $500. Other upholstery motifs can set you back up by $5,500.
Moving up the ladder is the 745e xDrive Performance model. Priced at $96,545, this trim level adds an electric motor to the inline-6 engine to create a plug-in hybrid system. Power is up to 389 horsepower and 442 pound-feet of torque. Standard equipment is identical to the 740i.
Next up is the 750i xDrive that starts at $103,645. Powered by BMW's 4.4-liter twin-turbo V-8, this produces 523 horsepower and 553 pound-feet of torque. There are more options for this trim level that are not available for the 740i and the 745e xDrive. The Rear Executive Lounge Seating Package includes an electric reclining right side rear seat and footrest, as well as a rear center console and rear seat entertainment system. That will cost $5,750.
The top-of-the-line model is the 760i that comes with a $158,695 price tag. It packs a 6.0-liter twin-turbo V-12 that produces 600 horsepower and 627 pound-feet of torque. There are numerous options for this model such as the $4,100 Autobahn Package, the $750 Cold Weather Package, the $3,900 Luxury Rear Seating Package, and an M Sport Package for performance materials.
The new 2020 BMW 7-Series will begin its production in March this year with the first cars arriving in dealerships by April.