Tag Archives:
718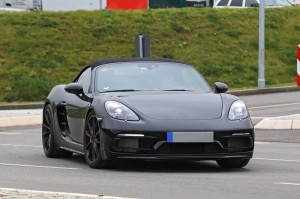 The upcoming Porsche 718 Boxster Spyder will feature a more powerful engine. The car will receive the 4.0-liter naturally-aspirated flat-six engine found in the latest 911 GT3.
It should be noted that the current top of the line 718 Boxster carries a 2.5-liter turbo four-cylinder engine. The output of the unit is 350 hp and it has a top speed of 177 mph. The zero to 60 mph acceleration of the car is at 4.3 seconds.
Replacing the engine with the 4.0-liter unit of the 911 GT3 will bump the output of the Boxster Spyder to 500 hp. However, analysts projected that the power unit of the Boxster Spyder might be detuned to produce a lower output than the more expensive 911 GT3.
The previous version of the Spyder was equipped with a 3.8-liter flat six taken from the 911 Carrera of its time. The output of the unit was at 375 hp. The latest Boxster GTS with an inline-four engine produces 366 hp. Since the 718 Boxster Spyder sits on the top of the Boxster range, it will likely have an output of 430 hp.
The car will have a six-speed manual gearbox as a standard fit. For customers looking to get most out of the auto, they can upgrade it to a seven-speed PDK dual-clutch transmission.
The 718 Boxster Spyder is closely related to the Cayman GT4 of Porsche. Therefore, it is expected to get many styling elements and configuration available in the Cayman GT4, including a very prominent rear wing.
According to the interview of Andreas Preuninger, head of GT car development at Porsche, having a natural aspiration engine is one of the unique selling points of their cars.