Tag Archives:
720s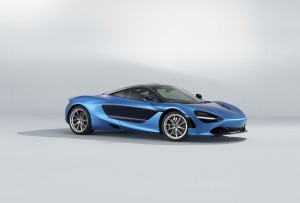 The McLaren 720S was unveiled back in 2017 as a replacement for the 620S. Its aggressive design, luxurious interior, and the powerful engine have been the talk of the auto industry for quite some time. Since then, McLaren has become fond of introducing custom models by MSO division, starting with the Velocity Theme.
This August 2018, the Brits have come up with two mode special editions—the Track Theme and the Pacific Theme. Let's look at the latter, which boasts of a stunning color and sophisticated luxury. But before falling in love with the Pacific Theme, we should warn you that this is only available in Scotland, where it was commissioned by McLaren Special Operations for McLaren Glasgow.
Cerulean Blue
If you think the McLaren 720S Pacific Theme looks stunning from afar, that's nothing compared to when you're actually looking at it closely. The car boasts of three special shades of blue, starting with Cerulean Blue that covers most of the body. This particular shade combines light and bright hue, which will remind you of the Pacific Ocean. It also helps the 720S stand out from the rest of the pack.
Estoril Blue
Most cars have black door inserts. What this theme did is to fit it with Estoril Blue elements. The paint is darker, giving a striking contrast with the fenders and the rest of the body.
Cobalt Blue
The third shade of blue is called Cobalt Blue, and it is actually a tint for the exposed carbon fiber. It's a really dark shade and you will notice it painted on the front splitter, air intakes, mirror caps, rear diffuser, deck lid, rear bumper, engine cover, and roof. These elements are finished in carbon fiber.
The 720S Pacific Theme comes with a set of silver wheels and grey brake calipers. The silver, of course, works nicely with the bright Cerulean Blue.