Tag Archives:
75th Anniversary Edition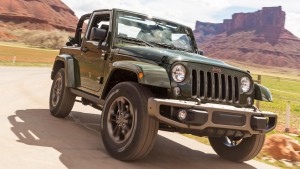 Every car in the Jeep range gets its own special 75th Anniversary Edition, but nothing is more interesting than the Jeep Wrangler's version.
By far, it's the closest in style to the military style reminiscent of Willys off-roader that kicked off the brand's story in 1941. After the Land Rover Defender, the Jeep Wrangler is the most classic and iconic vehicle coming out of that era.
You may want a brand new car, but that doesn't mean this special edition Jeep Wrangler won't attract your eyes. More than comfort, luxury and other technological necessities we find in cars today, Jeep Wrangler prioritizes off-road ability, making it the ideal companion for outdoor trips and sporting activities.
According to Top Gear, the 75th Anniversary Edition will come with an array of features—the option of the new paint finish, Sarge Green, 18-inch alloy wheels, limited-slip differentials, leather seats and a new sat nav and premium sound system.
Inside, it's easy to see that the Jeep Wrangler did not put comfort over function. It has chunky buttons, hardy plastics and a very upright driving position. This simplicity is a welcome sight, though, as it provides the functionality we all need from a vehicle.
But if you're the kind who likes to fiddle with all the features a car maker can chunk into an SUV, then you'll be wrong to go with the Jeep Wrangler. This is made for rugged terrain, where its four-wheel drive and low-range gearing would be most useful.
As for the engine, it comes in two options—a 281 bhp 3.6-lite V6 petrol and a 197 bhp 2.8-litre four-cylinder turbodiesel. You would want the diesel, of course, since it has 1,600 rpm of torque compared to the gasoline's 4,300 rpm. This would come into play when you have hills to climb.
All of these would total to a price tag of £32,000 for the Jeep Wrangler 75th Anniversary Edition.