Tag Archives:
a9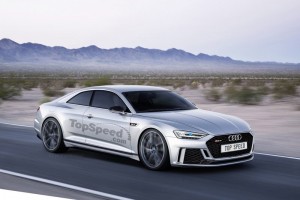 Three decades ago, Audi couldn't even be uttered in the same breath as Mercedes-Benz and BMW. But in the 1990s and 2000s, the Ingolstadt-based company produced premium cars such as the A4, A6, A8, and Q7. But even though it has upgraded its lineup, Audi couldn't even compete with the likes of Mercedes-Benz S-Class Coupe. Thankfully, that's about to change now with the 2019 Audi RS9 Coupe.
1. Exterior
The A9 will be based on the A8's design and since we've already seen what that looks like, we have a pretty comfortable simulation of how "muscular" the A9 will be. Expect to see the same massive grille, muscular engine hood, angular headlamps, and big vents on each corner of the bumper.
Because it's an RS model, the intakes are larger and will occupy almost the entire area under the headlamps as seen in the rendering of TopSpeed above. An RS9 badge will be on a more aggressive nose. In terms of exterior, the upcoming RS9 should have a similar elegant design to the Mercedes-AMG S63 and the BMW M8.
2. Interior
The interior will be based heavily on the standard A9, which means it is similar to the A8 with the addition of a sportier design such as a carbon-fiber trim and a flat-bottom steering wheel. The interior of the RS9 will most likely have the same horizontal lines as the A8, which means a wide look and smooth, clean surfaces.
The legroom will be similar to the sedan but since this is a coupe, the shoulder room and the headroom will decrease because of the roofline. The tech package will include the latest infotainment system such as the Apple CarPlay, the Android Auto, and the new AI traffic jam pilot.
3. Drivetrain
There is no word on what the RS9 will have under its hood, but we can expect it to have either a 4.0-liter V-8 engine or a bigger 6.0-liter W-12. The W-12 produces 600 horsepower and 664 pound-feet of torque. But if it wants to give Mercedes-AMG S63 and the BMW M8 some real competition, it should aim for 610 horses at the minimum.
4. Prices
We are just guessing here, but the Audi RS9 will probably retail with a price tag of $200,000 and above.