Tag Archives:
accord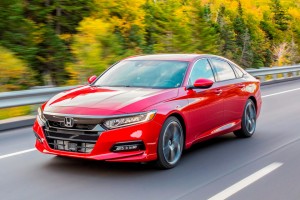 The Honda Accord, one of the most important vehicles in the Japanese automaker's lineup, isn't getting fixed for the 2019 model year but it is going to have a slight price hike. The company also decided to shake the trim levels a bit, eliminating the 1.5-liter Touring model from last year.
The 2019 Accord lineup still has the LX, Sport, EX, EX-L, and Touring trim with the LX acting as the base model and with a standard output of 192 horsepower from its 1.5-liter four-cylinder engine. The Sport, EX, EX-L models can be bought with either a 1.5-liter engine or the optional turbocharged 2.0-liter four-cylinder that makes 252 horsepower.
The Sport 1.5T and 2.0T models are still available with the six-speed manual transmission while the CVT remains to be standard across the range. Since last year's 1.5-liter Touring trim has been discontinued, it means the top tier would be the 2.0T. The Accord hybrid, on the other hand, will offer base, EX, and Touring trims.
The Sport model will now start at $27,075, up by $400 from a model-year ago while the other trim levels each get a $150 bump to $24,615 for the LX, $28,515 for the EX, $31,015 for the EX-L, and $36,845 for the Touring. The upcoming Accord hybrid is a bit more expensive than the current model. It now has a starting price of $26,215, up by $220. The EX and Touring trims of the hybrid increased by $330 and $280, respectively.
Everybody's a big fan of the Accord. The midsize sedan is the brand's biggest and arguably most important vehicle. The 10th generation model, which debuted for the 2019 model-year, is said to be the best Accord yet so there's really no need to tinker with it or change any of its features and layout.
The 2019 Accord already arrived at dealerships on November 1.