Tag Archives:
AeroWagen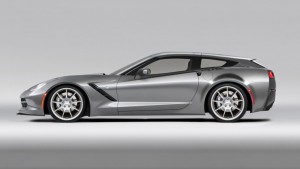 Callaway is giving us another reason to adore the ground it stands on. The company is best known for tuning the likes of Corvettes, Camaros and Silverados, and it even gave us the 757 bhp Corvette Z06.
Its latest project, the Corvette AeroWagen, is the stuff legends are made of, however. According to Top Gear, the product is based on the AeroWagen Concept, Callaway basically churned out a shooting brake Corvette. For a reported $15,000, Callaway will remove the tailgate from your Corvette. It'll replace it with a one-piece carbon fiber structure to lengthen the Corvette's roofline, as well as expand its luggage space.
This means the Corvette AeroWagen will feel bigger and bulkier. It uses the same factory seals, hinges and latches, meaning the Corvette's targa top will remain fully functional. Oh, but don't be too hopeful. There are still no extra seats despite the "improved" cargo space.
If you're really interested with what Callaway is offering, then you better own a targa-top Corvette. Any hard top 'Vette, even the Z06, as well as the Stingray and Corvette donor car, can be converted. It doesn't even matter if it has one of Callaway's performance kits or not.
And don't be too afraid of having your vehicle converted. The installation is fully reversible. Installation will start later this year with orders being received as early as now.
The Corvette Z06 is priced under $80,000 with the SC757 power kit at $18,000 and the AeroWagen tailgate adding another $15,000. All in all, that's a combined power kit of $113,000 for a 757bhp Corvette shooting brake.
The concept was first showed off in late 2013 with Callaway Cars planning to start production of the Corvette C7-based AeroWagen later this year. During that time, Callaway said the shooting-brake-style conversion would cost $23,000.
This particular Callaway look was built by Montreal-based car designer Paul Deutschman, but it remains unclear if he also had anything to do with the AeroWagen's styling.