Tag Archives:
Aston Martin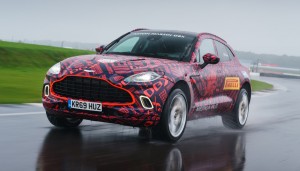 The Aston Martin DBX is its maker's entry into the luxury sport utility vehicle market. From a company that has specialized in supercars over the years, it is all-new territory for them. However, analysts think that the brand's entry to the niche is worth all the risk and the new product might be the saving grace of the automaker.
According to Bloomberg, Aston Martin has lost three-fourths of its value since its initial public offering in October 2018. The problem has been attributed to the poor performance of the much-hyped Vantage, DBS and DB11 Volante cars in the market. This caused the company to publish financial warnings and they have been pushed to invest more in the business to stabilize it. The event also landed Aston Martin in the list of the worst-performing big companies in the UK during that period.
The British brand recovered a bit, thanks to its sale of six DB4 GT Zagato Continuation supercars that yielded £2 million each in profits. However, that's still not enough, so the coming of the DBX might change its fortune.
Aston Martin is looking to capitalize on the popularity of luxury SUVs, particularly in big markets like China and Russia. The company is looking for a boost in their marketing as well in the coming James Bond film titled "No Time to Die".
Daniel Craig reprises his role as Agent 007 upcoming movie. As Aston Martin cars have been one of the mainstays in the franchise, some of its vehicles like the DB5 and Valhalla will be featured there. The $189,000 Aston Martin DBX will take the spotlight also to promote it to buyers.
Major details about the Aston Martin DBX are yet to be revealed but what we know so far is that it will get Mercedes-AMG's 4.0-liter biturbo V8 engine. The unit will let the SUV produce up to 542 hp and 516 lb-ft of torque.
With the DBX in its offerings, Aston Martin is targeting to improve its annual production to 14,000 vehicles on its way to 2023. That's more than double than their performance last fiscal year.
Furthermore, Aston Martin CEO Andy Palmer said they are looking to attract customers who want an upgrade from their Range Rovers and Porsche Cayennes with the DBX.