Tag Archives:
Aston Martin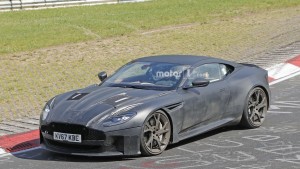 The 2019 Aston Martin DBS Superleggera will be based on the convertible Volante version, and that is why when it was seen testing at the Nurburgring, we knew exactly what we are looking at. The coupe version looks exactly like the convertible but with the DB11's hard top and floating roof design.
Aggressive Wheels
Although the DBS Superleggera and the Volante share some design language, there will be stark differences in terms of its overall look. The most obvious difference, based on the spy shots, is the set of wheels. The Volante has simple, thin, split five-spoke wheels while the DBS Superleggera would have a more aggressive and overly-styled set of wheels that still feature the five spokes. There's a wide opening behind the front wheels and the wide sills extend backward from the opening and merges eventually with the rear fenders.
Upgraded Rear End
There are more differences at the back. There's a bigger diffuser at the rear bumper and the exhaust tips now share the same size. Remember that in the Volante, there were small outboard units. The taillights are covered up, but we can see from the shots that they appear to be simpler than those found in the convertible.
DB11 Interior
The new Aston looks a lot like the interior of the DB11, and we were expecting that. But since the exterior changes are quite comprehensive and if those are any indication, we can expect a couple of more changes in the interior of the DBS Superleggera.
If you are interested, you won't have to wait long to see the final production output. Aston Martin said that it would reveal the DBS Superleggera this month. It is set to be the company's new flagship sports car and it could have as much as 700 horsepower.